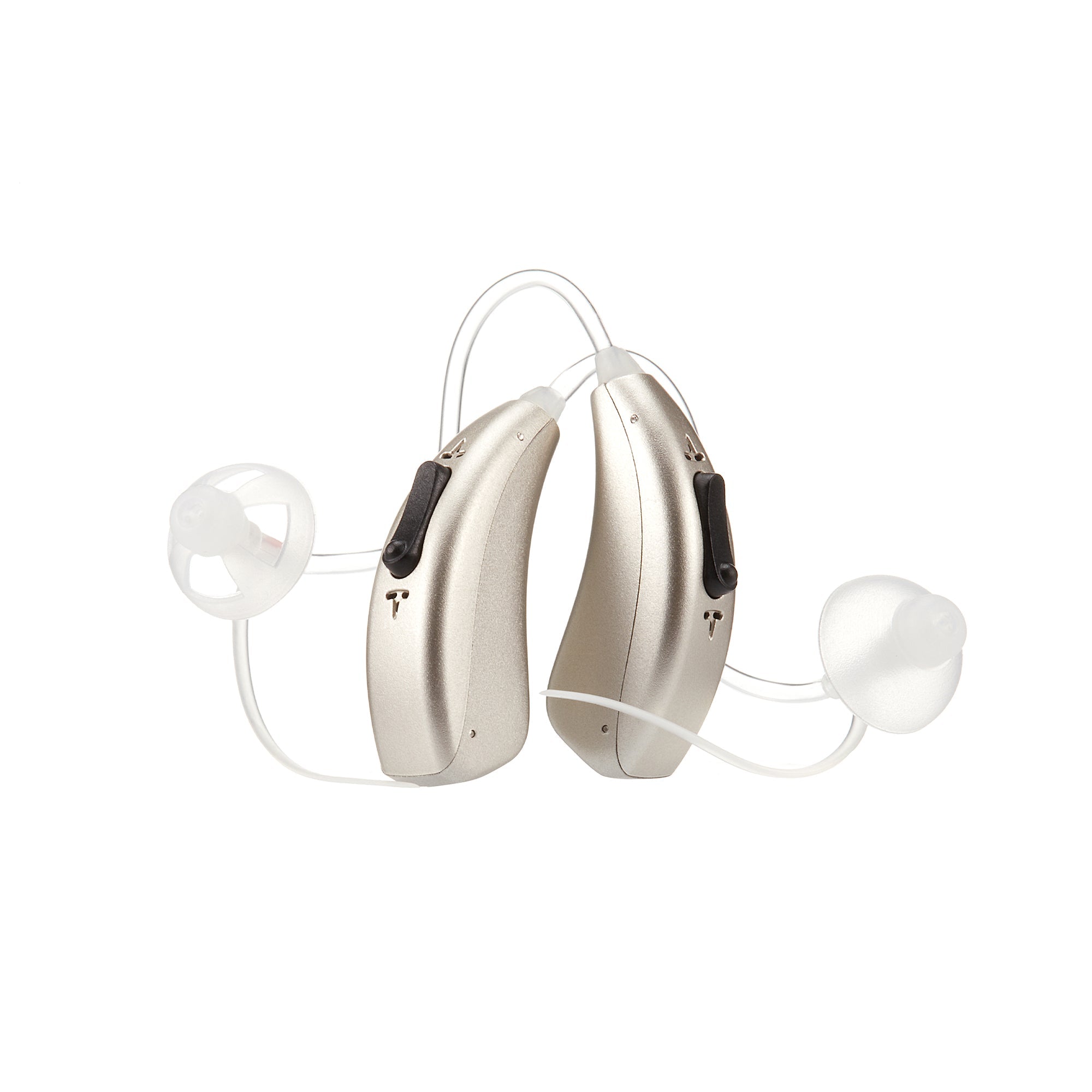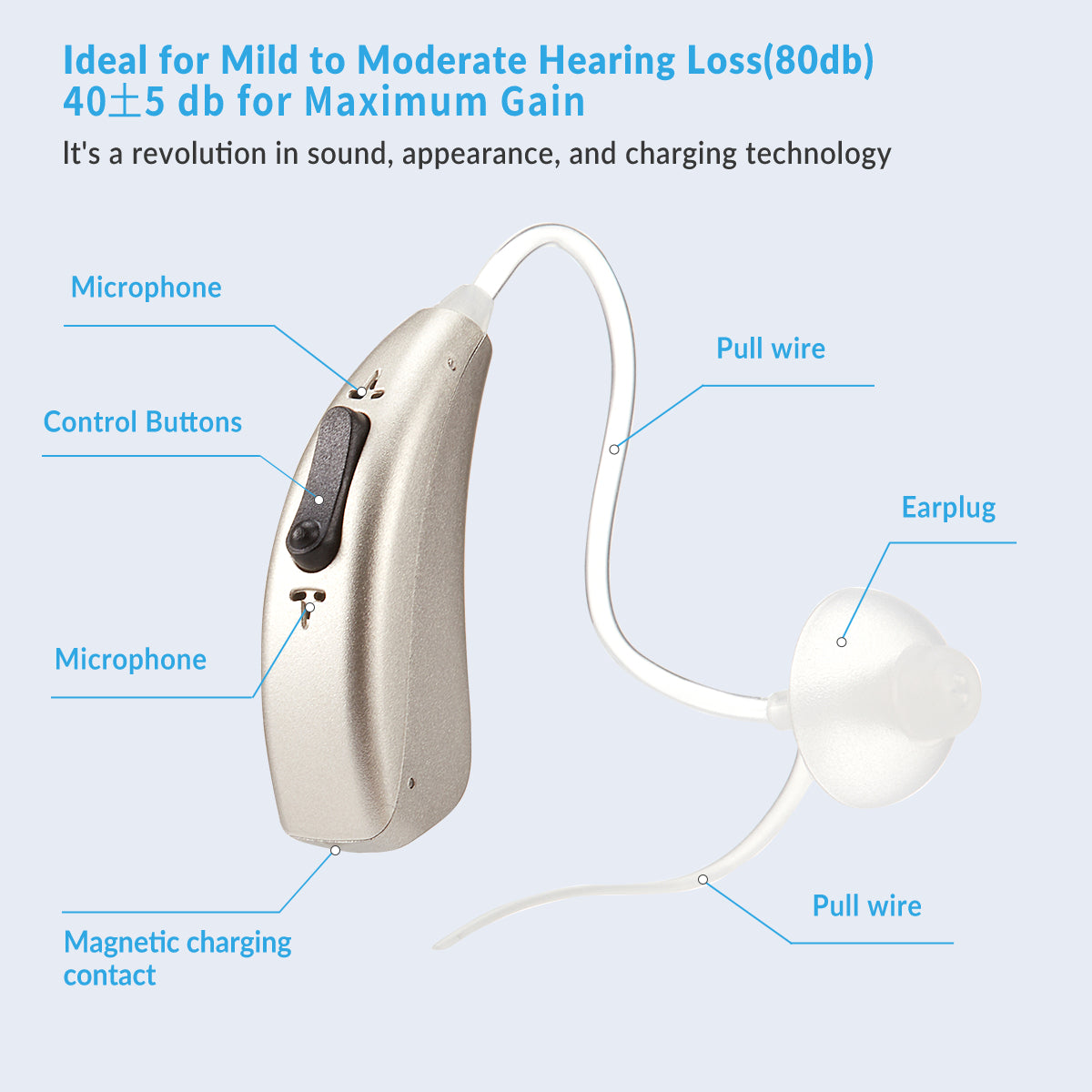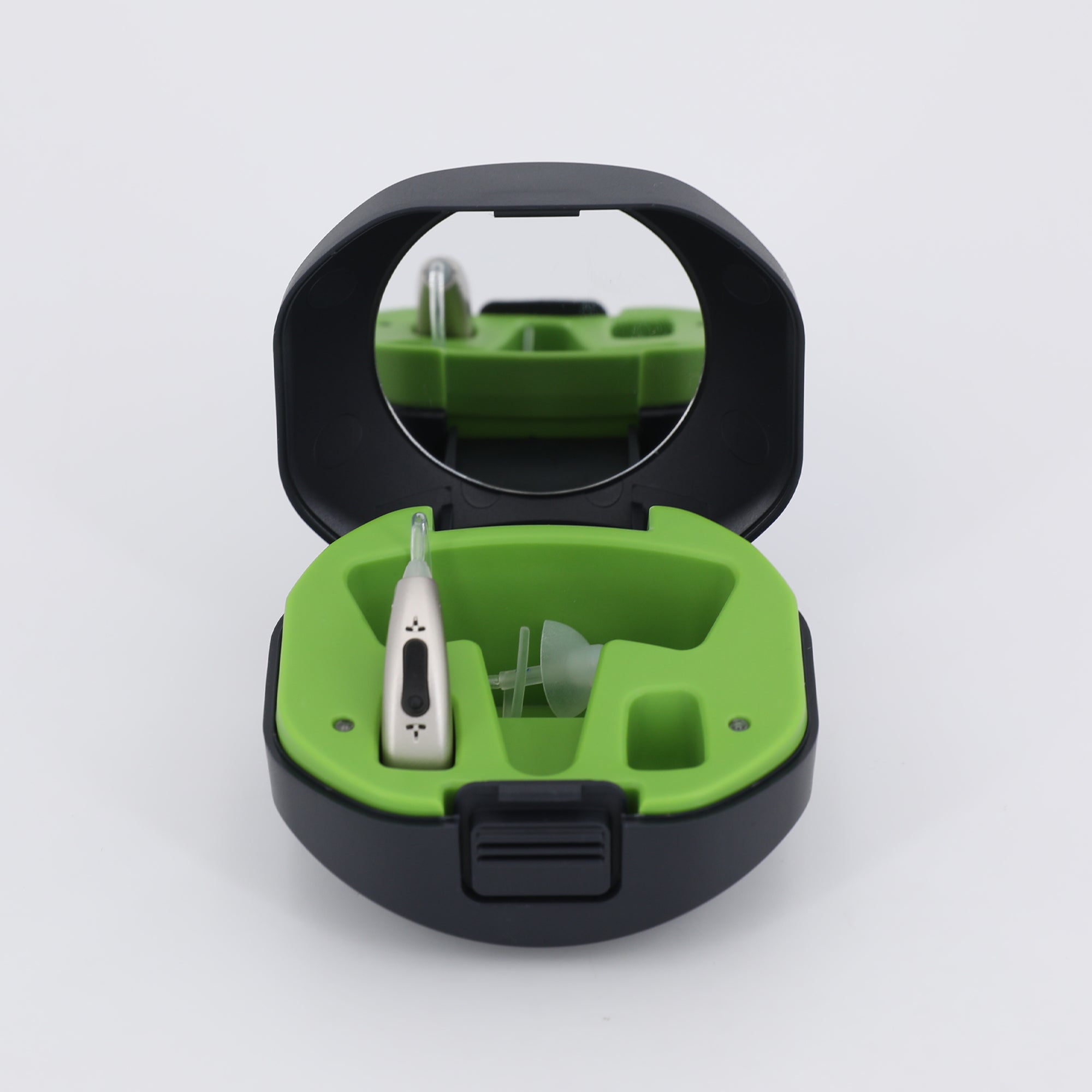 Fisdemo M OTC Rechargeable Hearing Aids for Adults and Seniors with Invisible Fit and All-Day Comfort, Dual Microphone, 12hours Battery Life, Noise Reduction and Nature Sound
4 interest-free payments or as low as $18/mo with Affirm. Learn more
---
The Fisdemo Sonic offers affordable, high-quality, FDA-registered hearing aids for seniors and adults.
Background Noise Reduction: Control the sounds that you want to hear with four listening programs depending on your environment and Eight volume levels
Rechargeable and up to 12 hours battery life
Affordable Cost: only $

19

9

Ideal for Mild to Moderate Hearing Loss: Fisdemo M uses advanced feedback cancelling technology to provide

40

±3 db maximum sound gain with virtually no whistling.
Easy to use: Simple push button control for easy adjustments
Superior Sound Quality: Multi Chanel Digital Chip help accurately distinguish language pronunciation, actively reduce noise, and easier and more comfortable to hear clearly.
Exclusive Customer Service: 
45 Days Money-Back Guarantee: 
Try Fisdemo Hearing Aids for 45 days and if you're not fully satisfied, return them for a full refund.
Phone service support: 
We provide 1-to-1 telephone customer service,Any problem you can call 
1(509)7950299
.
Online Chat service provided:
You can also chat with us online whenever they need assistance, or contact with us in email:
support@fisdemosonic.com
. We will respond promptly.
Pay As low as $18/mo with Affirm
SPECS
Maximum output OSPL 9o(dBSPL)
≤117DB+3dB
THD(%)
≤3%
HFA output OSPL 90(dBSPL)
108dB+4 dB
EQ Input Noise(dB)
≤36dB+3dB
Maximum Full-on gain(dB)
40dB±5dB
Frequency Range(Hz)
200Hz~5500Hz
Working hours | Hearing
12 hours
Time of full charge (Devices)
2.5 hours
Size (Device)
0.31*0.39*1.26 in
HFA Full-on gain(dB)
36dB±3dB
Battery Current (mA)
9mA
Charging times (per pair)
4-5 times
Weight
5.4g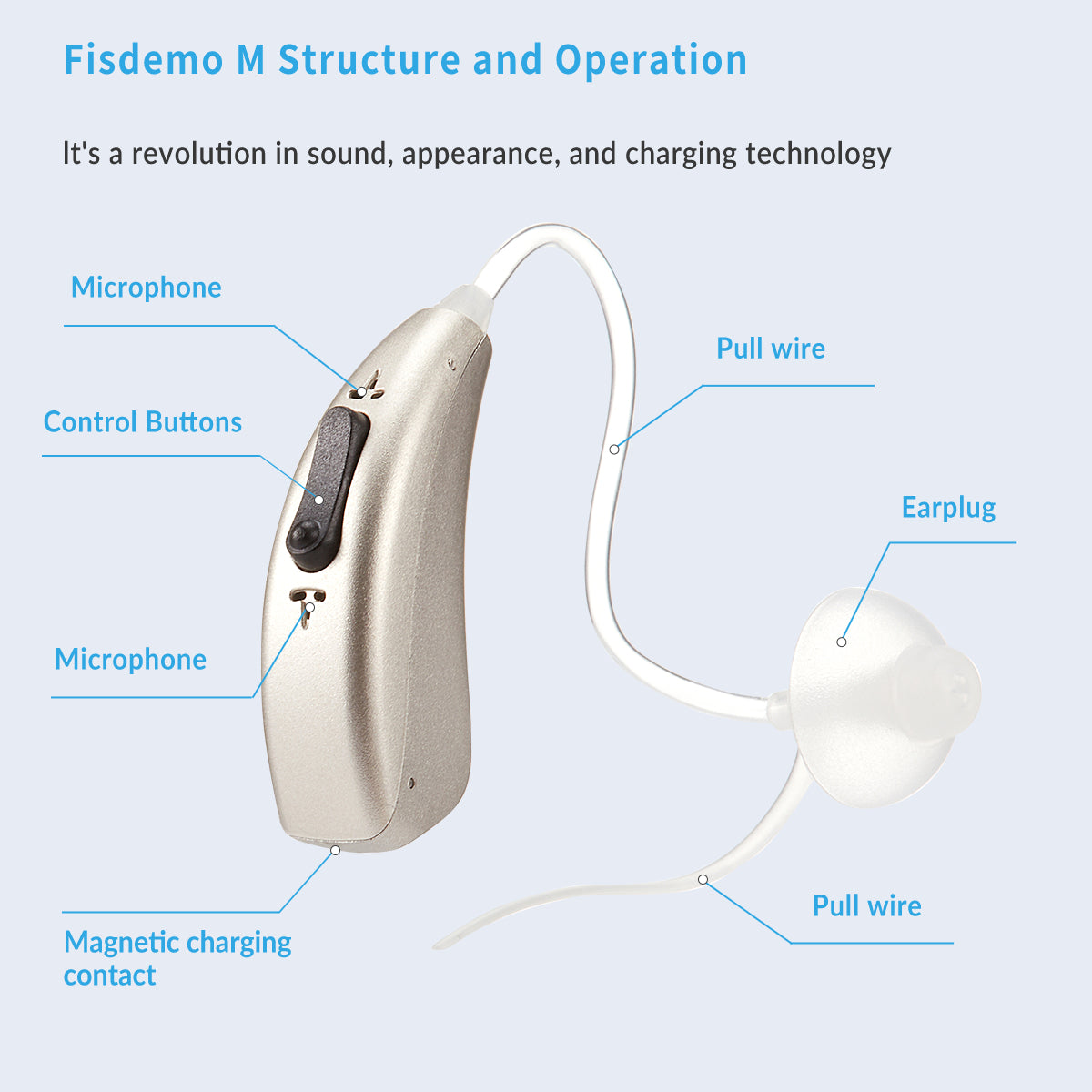 Ideal for Mild to Moderate Hearing Loss(80db)40±5 db for Maximum Gain
Fisdemo M is ideal for mid to moderate hearing loss. User friendly design is reasonable. Pressing 1S to adjust volume and 3S to switch programs. Fisdemo M is fits anyone's ear, both left and right tubes provided. There are 2 tubes in the package. Blue color is for left and the red color is for right. You can turn clockwise to install sound tube.
Invisible Fit And All-Day Comfort
They are lightweight, almost invisible and comfortable enough to wear all daily life. Superb wearing comfort is provided by a special ergonomic design—long lasting comfort and resistance to slippage.
We have 6 different sizes and shapes domes for comfortable fits. They are all soft and no whistling, so there is always one for you. Furthermore, we provide some pairs with holes, which makes voice comes out clearer and more authentic.
Easy To Use
The volume control is easy to adjust, allowing you to customize the sound levels to the clearest state, and the volume adjustment is very stable. Each ear piece allowed for individual volume control that is physically controlled,very convenient and friendly for senior people.
Fisdemo M could automatically turn on out of the box, and power off in the box. Hearing aids has 4 program settings,normal, conversation, outdoors and music, you can longer press black control buttons to change.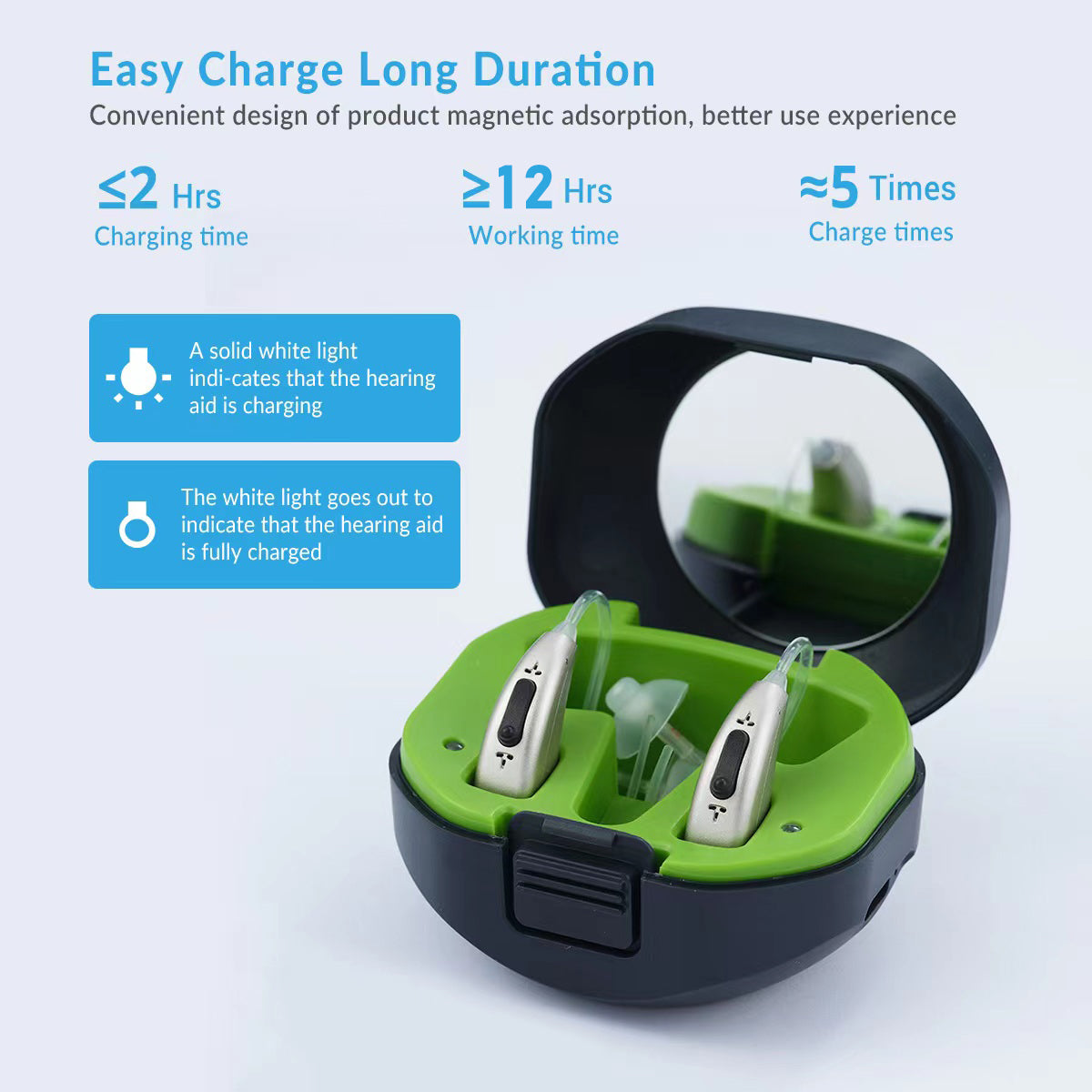 Rechargeable and Long Battery Life
Unlike conventional hearing aids, which frequently need their batteries changed. Fisdemo M can be recharged up to 5 times for both ears using a portable charging box. So, you may go out and have fun without being concerned about the battery by charging less than 2 hours for a full charge up to work for 12 hours.
Extreme Nature and Clarity
Multi-Channel WDRC Memories with Highly Advanced Mini Microprocessor Technology for intelligent ambient noise reduction and clean and natural sound.
With its cutting-edge adaptive feedback management system, Fisdemo M offers clear, nature, and comfortable listening in various environments.
Hear Better, Wherever You Go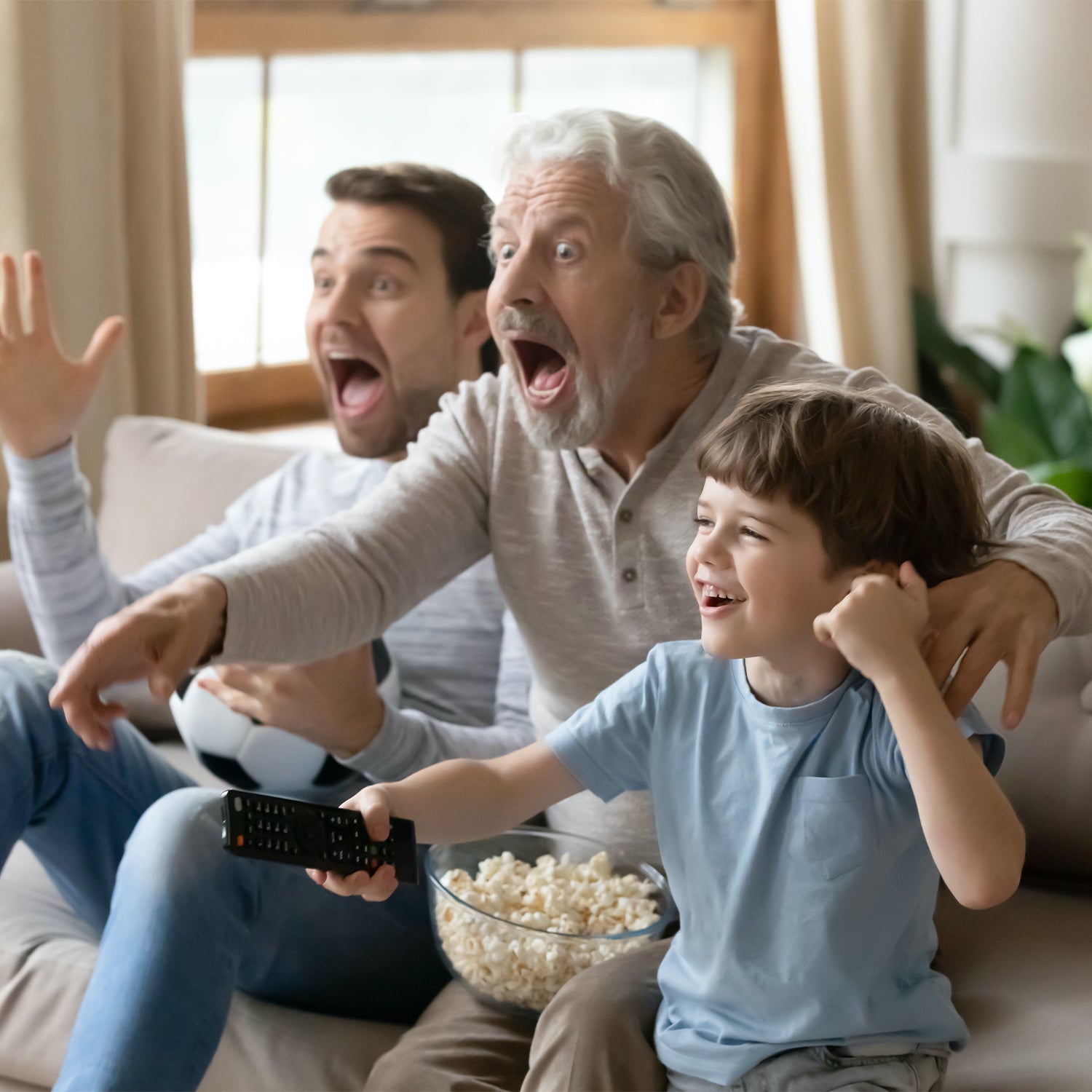 Watching TV
If you miss a conversation or TV show for want of hearing, you can fix this with Fisdemo M. A powerful microphone and digital processing will pick out all the important sounds, making it more comfortable to watch TV with families. You can turn down the volume to a level that both you and your spouse can enjoy.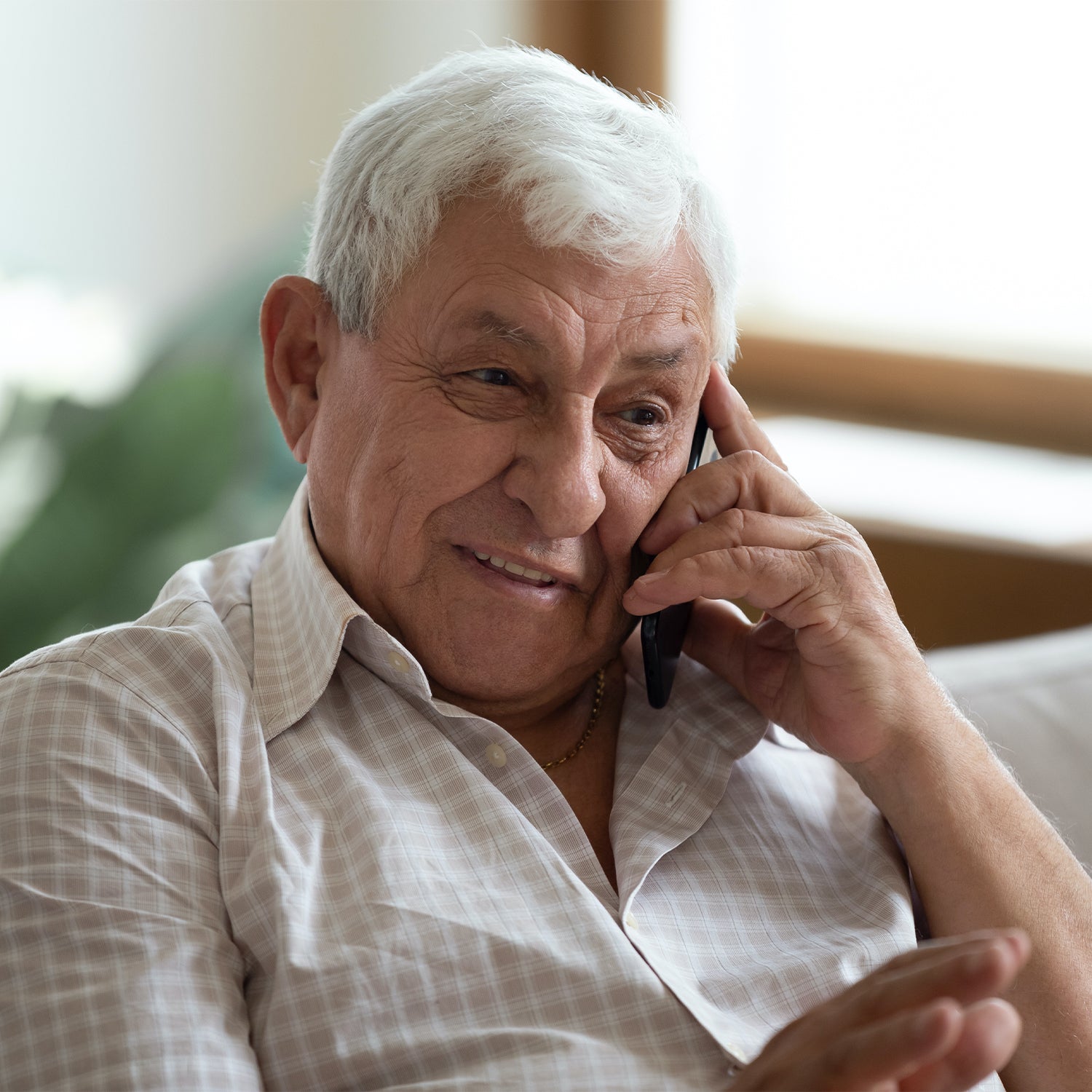 Talking On The Phone
When you can hear the person on the other end of the line, you don't need to ask them to repeat themselves. Perfect for phone calls and conferences, our hearing aids will provide you with conversation clarity in every situation. You hear every word clearly, just like they're right in front of you.
Noisy Surroundings
Hear the sounds you want to hear and separate them from background noise, so it's not just easy on your ears - it's easier to understand. Fisdemo M is not created equal. Get the technology and features that are right for you, so you enjoy great personal sound, whatever the situations.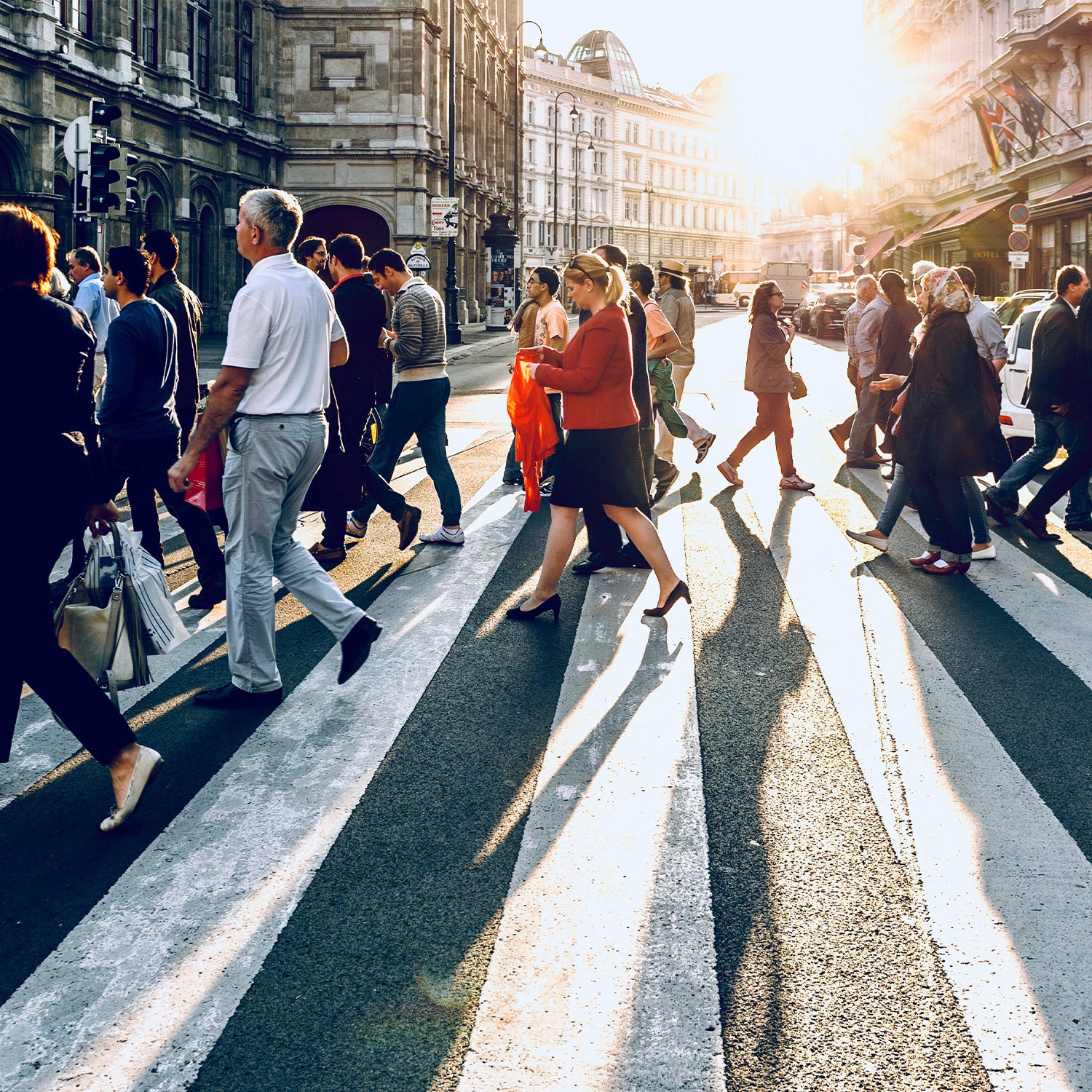 Enjoy Every Moment In Your Life
Stop reading other people's lips, just listening as usual. Enjoy every moment with the people you love. Fisdemo M can help you to hear better in all kinds of situations, making it easier to have conversations with family members, friends and colleagues.
PACKAGE INFO
①Type-C charging cable
②Silicone ear dome
(closed form:0.805/1.05/1.3cm
open form:0.805/1/1.4cm)
③Charging base
④Brush
⑤Sound guide tube
How to Use Fisdemo M hearing Aid?
Are Fisdemo hearing aids FDA-Approved?

Fisdemo strictly abides by the policy requirements of the FDA, and all products are FDA certified.
What are the types of hearing aids?

Healthcare providers categorize hearing aids into five types: behind-the-ear (BTE), in-the-ear (ITE), receiver-in-the-ear (RITE), in-the-canal (ITC) and CROS/BiCROS. Fisdemo M is a premium BTE.
How do I wear the hearing aids?

Once the hearing aids have been fitted for the ears, the individual should begin to gradually wear the hearing aid.Because hearing aids do not restore normal hearing, it may take time to get used to the different sounds transmitted by the device. The American Academy of Otolaryngology recommends the following when beginning to wear hearing aids: Be patient and give yourself time to get used to the hearing aid and the sound it produces. Start in quiet surroundings and gradually build up to noisier environments. 
I've just been diagnosed with hearing loss. Do I need hearing aids?

It depends on your type and degree of hearing loss. The majority of patients suffer from sensorineural hearing loss, resulting in permanent damage to the inner ear. Fortunately, hearing aids can help most of these individuals communicate more effectively.Fisdemo M is suitable for mid to moderate hearing loss people to use.
Do I need two hearing aids?

Most patients have hearing loss in both ears that can benefit by amplification. Two hearing aids are best for natural hearing.Fisdemo
M is a pair of hearing aids to sell.
Won't hearing aids make me look old?

Fisdemo is really small size and almost invisible, as thin as
pencil, so you can wear it the whole day.
How much will OTC hearing aids cost?

It is estimated that OTC hearing aids will cost less than $1,500 per pair. But Fisdemo absolutely is your best choice for affordable hearing aid.The price of Fisdemo M is even under $300.
How can I know the hearing aid battery in low power need to charge it as soon?

The hearing aid has a low battery warning signal (beep). when the battery power is too low, you will hear this signal(beep) to remind you to charge it on time. the low battery signal will repeat every 5 - 10 minutes.
How can I care for my hearing aid?

Proper maintenance and care will extend the life of your hearing aid. Make it a habit to:
-Keep hearing aids away from heat and moisture.
-Clean hearing aids as instructed. Earwax and ear drainage can damage a hearing aid.
-Avoid using hairspray or other hair care products while wearing hearing aids.
-Turn off hearing aids when they are not in use.
-Keep it away from children and pets.
How long I can adapt my new hearing aids?

Fisdemo hearing aids devices can help you hear different kinds of sound you missed before. therefore, in order to make you feel comfortable for our hearing aid. you need an adaptation process. please wear it according to our guidance.
First Week
Start to wear your hearing aids at quiet listening environments. we suggest Wear them for 1~2 hours per day.
Second Week
You might take a walk in the park or along the forest to catch various natural sounds such as birds chirping. you can hear different sounds clearer than before. Recommend Wear this hearing sound amplifier for 4~8 hours per days
Third Week
You try to wear hearing device to go to public areas with Noisy such as restaurants or train stations. but adjust the sound suitable volume level and mode 3 before go out. Recommend Wear it no more than 8 hours per day
Forth Week
Gradually increase your wearing time per day, until you start to feel comfortable for as long as you can. at this period. you can prepare to travel like beach vacation and catch various natural sounds from sea such as tide pushing, conch, wind etc. bring lots of fun voice to you by our hearing aids.
This product is rated 4.8 of 5.0 stars.
It has received 20 reviews.
You may also like
Save $350.00
Ideal for Mild to Moderate Hearing Loss

2-3 hours quick charge&38 hours battery life

5 pairs of ear domes for different canals

4 listening programs&6 volume levels

In-the-ear(ITE)hearing aids

Save $300.00
Ideal for Mild to Severe Hearing Loss

2-3 hours quick charge&20 hours battery life

5 pairs of ear domes for different canals

4 listening programs&10 volume levels

Behind-the-ear (BTE) hearing aids