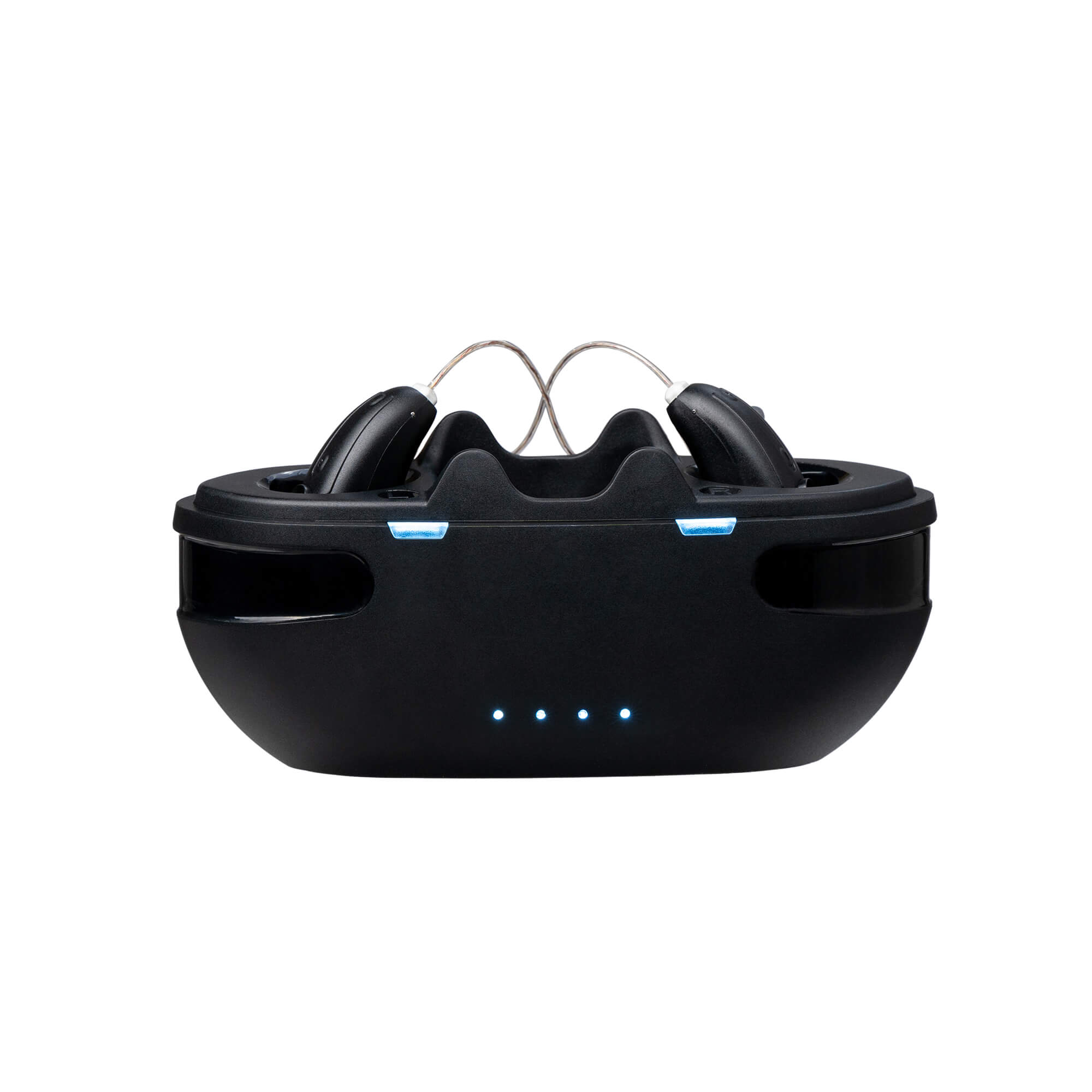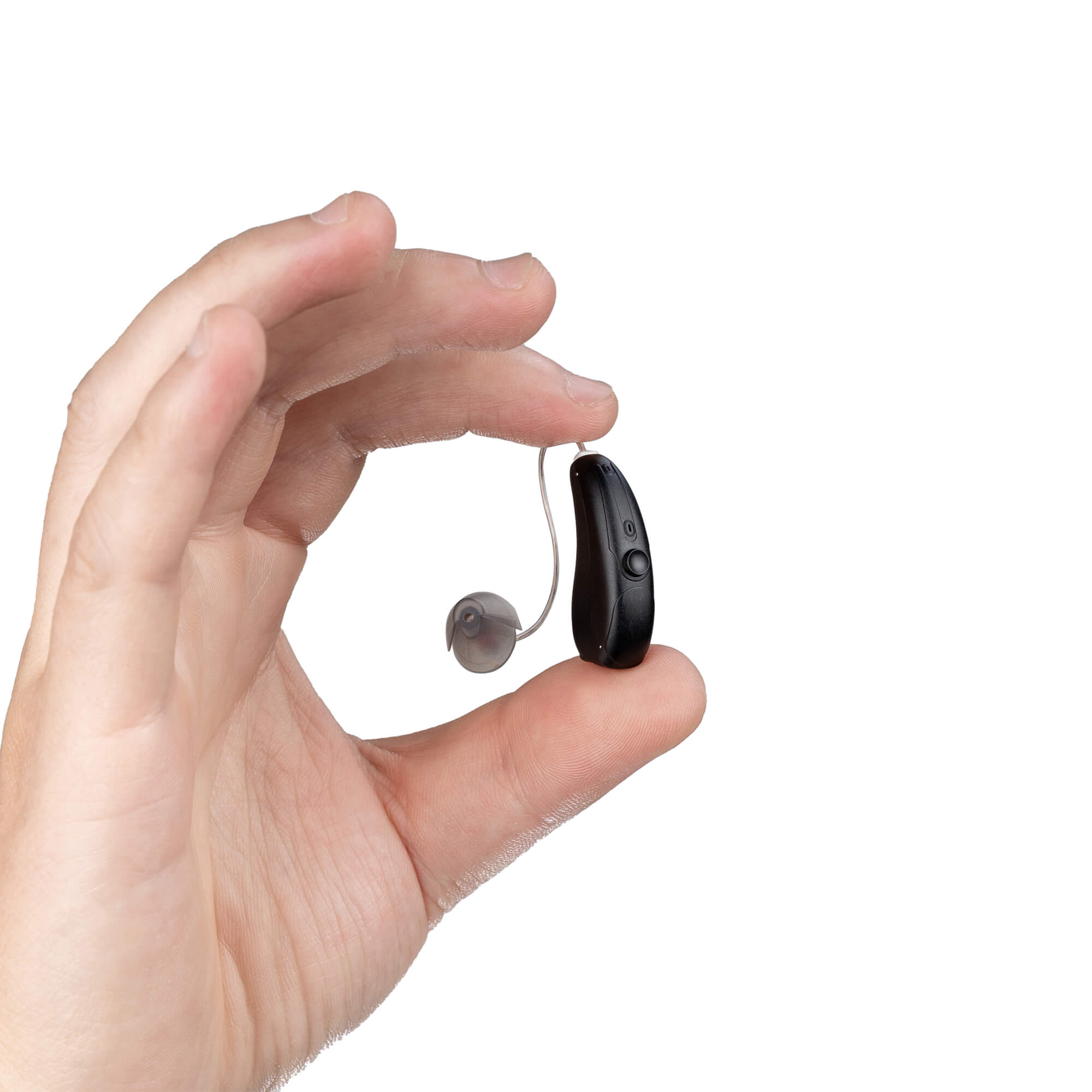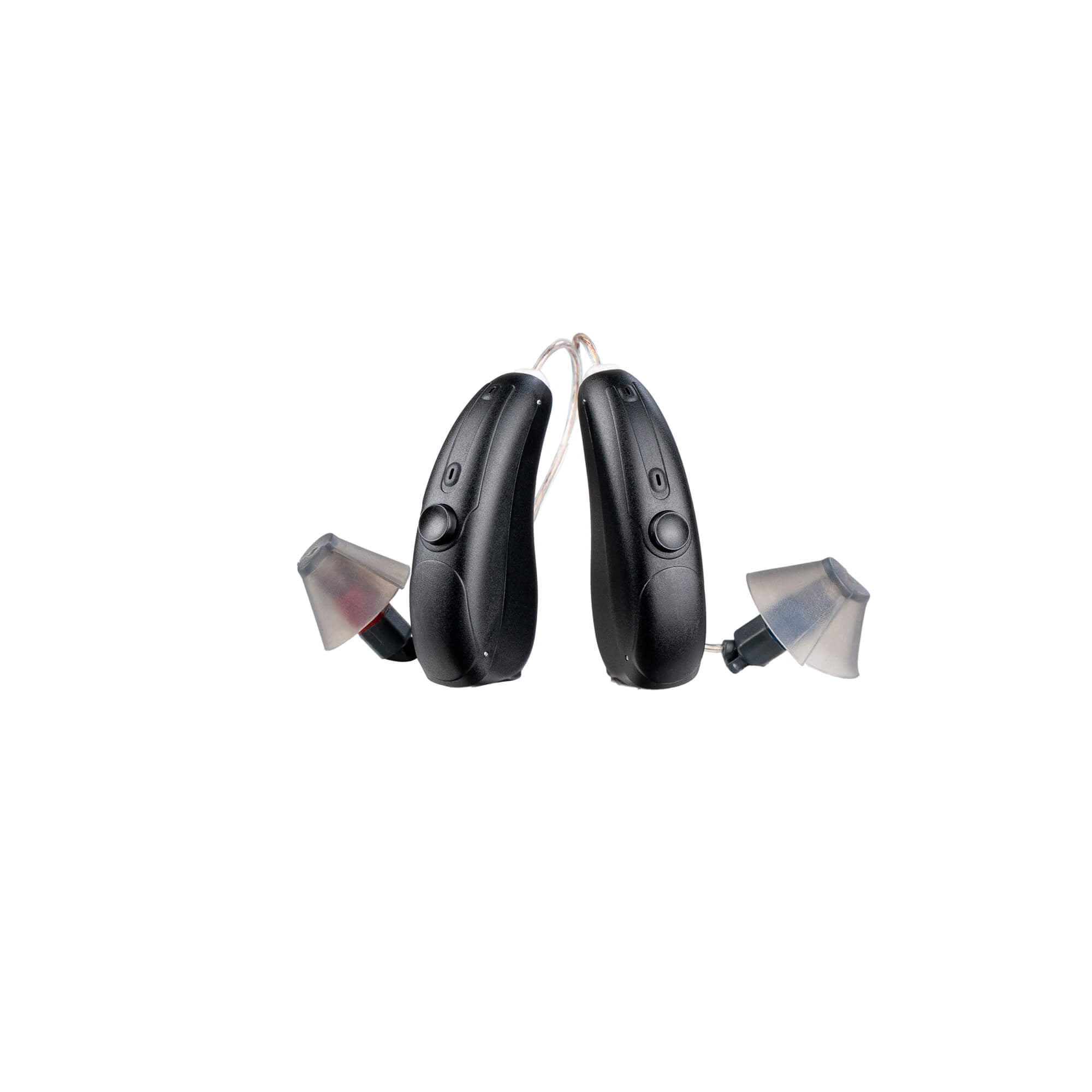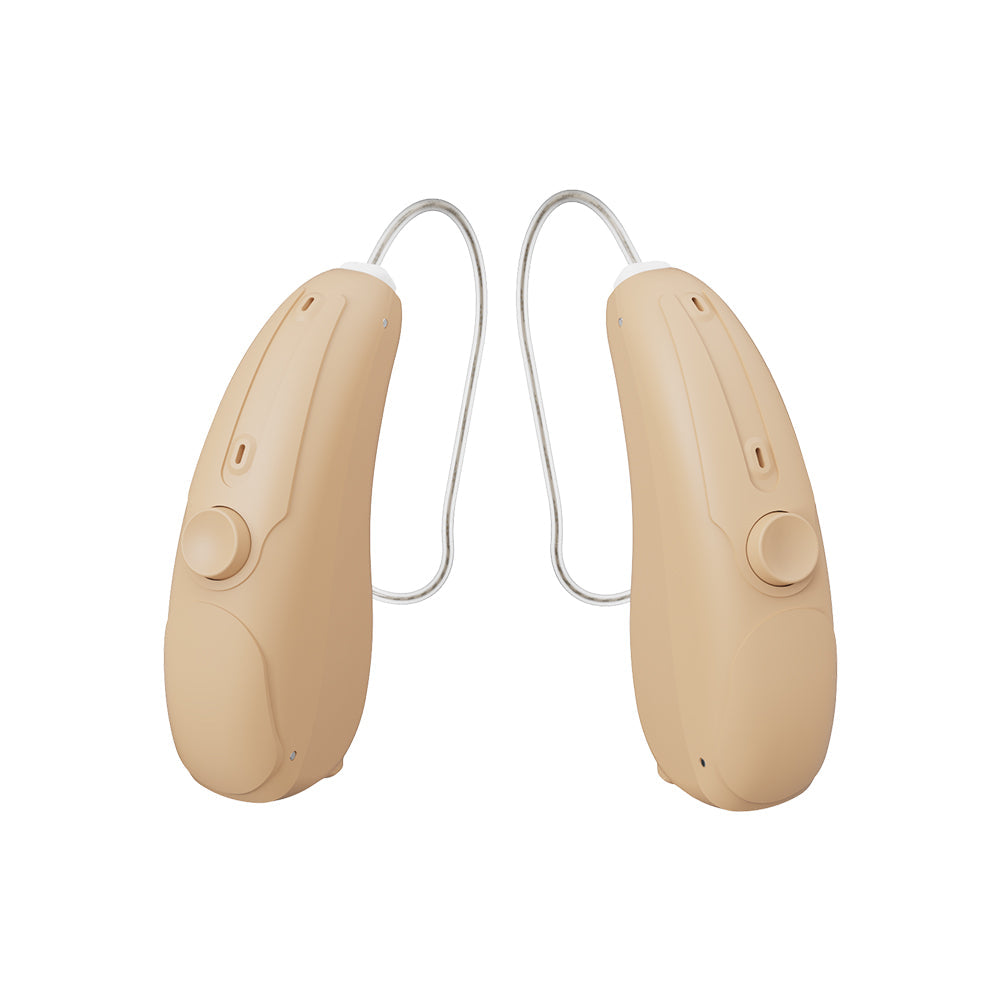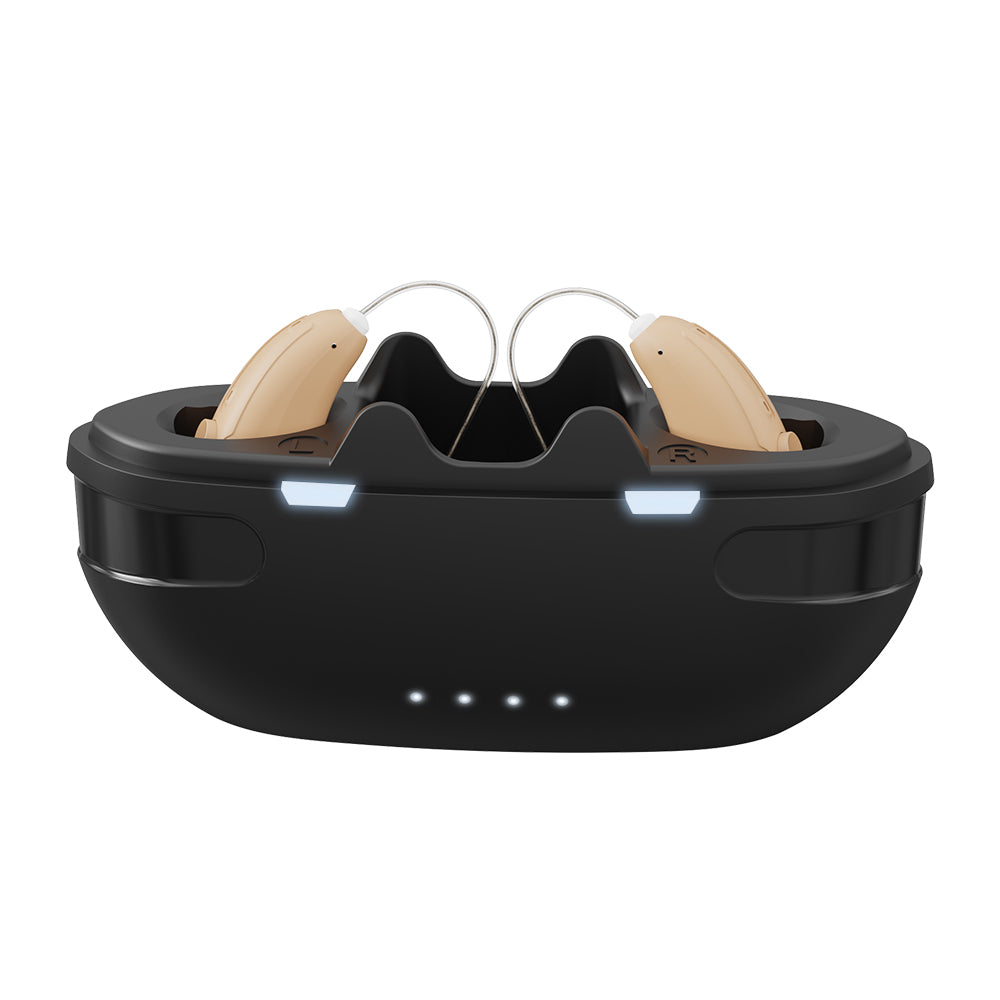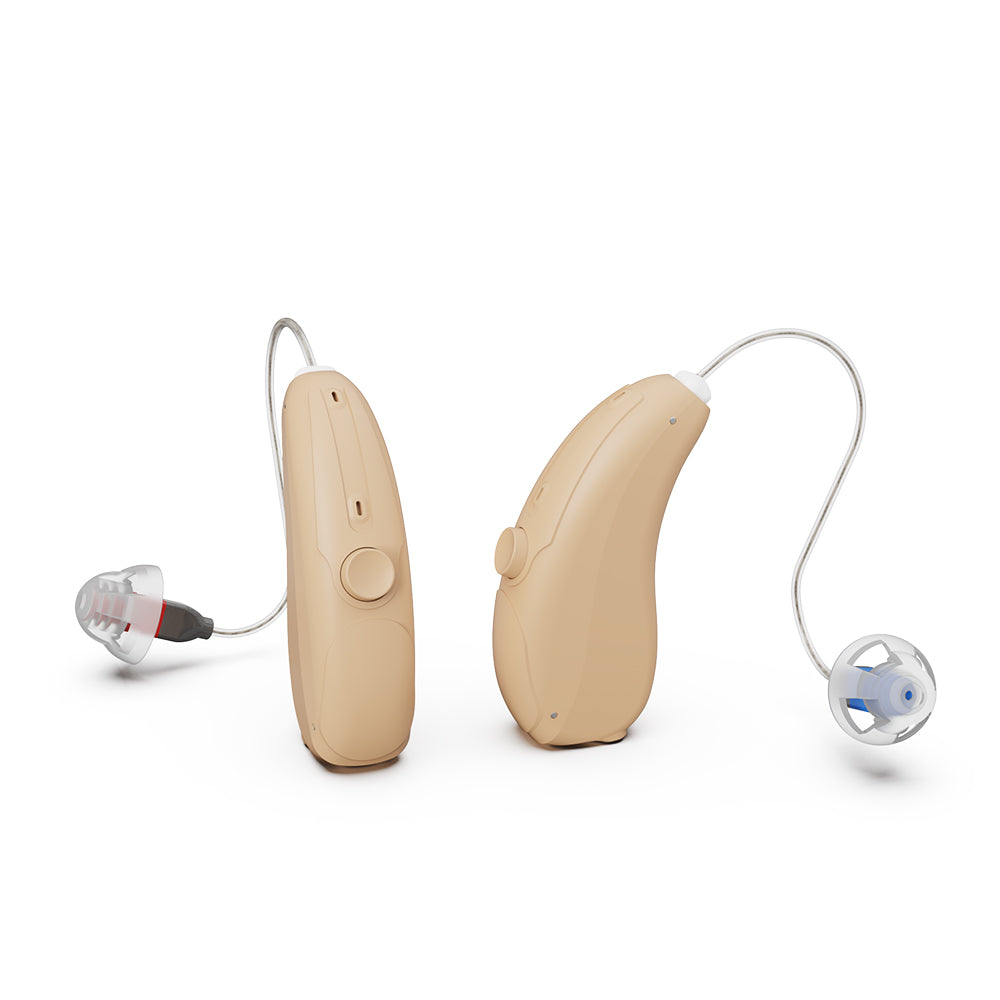 Fisdemo Discoverer Premium Rechargeable Bluetooth Digital RIC Hearing Aids, Dual Microphones Designed for Mild to Moderate Hearing Loss
4 interest-free payments or as low as $31/mo with Affirm. Learn more
---
Key features

Dual microphones:Nature voice, crystal clarity and noise reduction. 
Bluetooth streaming:Hands-free for calls, enjoying favorite music and TV.
Self-fitting:Automatically adapts to your unique sound environments.
App Control:Mobile app to control your own hearing aid settings, stream music, and take calls.

Receiver-In-Canal (RIC):In-ear receiver shortens the distance from the receiver to the ear canal, greatly reduce the distortion and feedback, so we can hear crystal and the most natural sound.
Long-time Use:More than 16 hours using time, powerful your daily life.
Rechargeable:Portable charging case with less than 2 hours fast Type-C charging.
Invisible Design:Really small size.
Peak OSPL90(dB SPL): ≤117dB
OSPL90-HFA(dB SPL):106dB
Maximum output OSPL 90(dBSPL): 102士4dB
Peak Gain(dB): ≤48dB
HFA/FOG Gain(dB): 33±5dB
Equivalent input noise(dB): ≤32dB
Frequency response range(Hz): F1≤200Hz F2≥4000Hz
Harmonic distortion: NA
Battery drain: ≤3%
Charging Time:≤2 Hours
Rated Working Time: ≥ 16 Hours
Size:8x32x12MM
Weight:10g
Working hours | Hearing: 16H
Time of full charge (Devices): 2 hours
Charging times (per pair): 3 times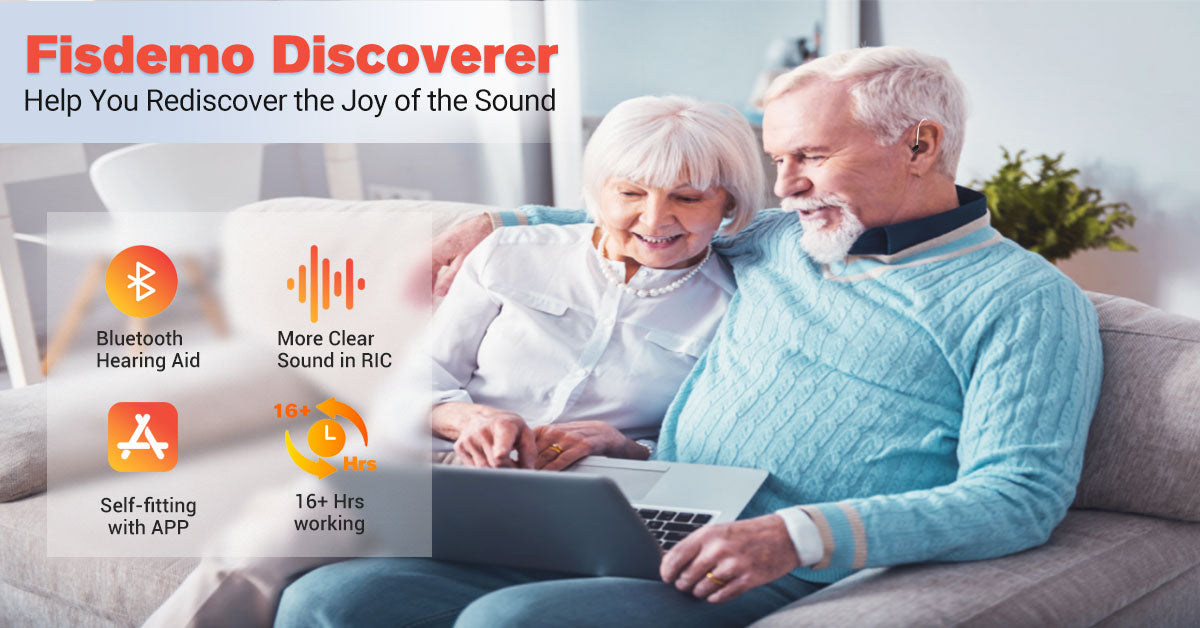 Listen to the Natural Sound
Get back to nature life with colleagues, friends and families, stay active at work, or listen to your personal collection of musics, Fisdemo Discoverer is your ideal partner, which can bring you a natural listening experience, no matter how you spend your day.
Dual microphones can automatically reduce noise giving you a fast and stable clear sound experience. Further more, RIC shortens the distance from the receiver to the ear canal, greatly reduce the distortion and feedback caused by the sound in the propagation process.
Enjoy Direct Bluetooth Streaming of Calls, Music and TV
Stream your favorite musics directly into your ears, and you can adjust the volume you need when watching a new TV program. All you need is a smart phone cell phone. With control App, our new hearing aids offer great connectivity, can transmit sound from different sources.
Self-Fitting:Convenience to Fit Your Unique Hearing Need
Download our HA-Fit mobile APP, you can tailor the device settings to your unique hearing preferences for each ear. Follow on-screen instructions to pair, personalize & program them to your needs.Adjusting volume levels, choosing the most suitable scene and completing Hearing Evaluation, automatically optimizing your hearing devices. You can complete the entire process in your own home, less than 30 minutes.
Fast Wireless Battery Charging and Sufficient Power
Thanks to its high-capacity battery and rechargeable technology, Fisdemo Discoverer provides a long lasting, ideal listening experience, whether you're streaming audio or not.when you put the hearing aids in the slot, the hearing aids will automatically start charging immediately; when you take the hearing aids out, the hearing aids will be automatically turned on immediately.
Hear your original voice when Face time
Fisdemo Discoverer provides a natural voice for your own speech, combined with optimized hearing of other sounds for a pleasant natural listening experience.
Chatting in noisy environments
You can easily understand the person you are talking to, even in noisy environments such as restaurants or conference venues.
Conversation outdoors
Thanks to speech quality, our new hearing aids let you hear clearly in any environment thanks to noise reduction technology.
PACKAGE INFO
①Type-C charging cable
②Silicone ear dome
③Tulip Earplugs
④MiniFit
⑤Charging base
⑥Brush
This product is rated 4.8 of 5.0 stars.
It has received 9 reviews.
Worth buying.
Well packaged.The amplifiers themselves are discreet and comfortable to wear, with multiple sizes of ear tips included to ensure a perfect fit. They're also incredibly easy to use, with simple controls that allow me to adjust the volume and settings to my specific needs. We like it!!!
nice design
These hearing amplifiers is their compact and discreet design. They are easy to wear and do not draw attention, making them ideal for individuals who prefer a low-profile hearing aid.
great product and can recommend
These Hearing Aids are really good and a cut above some other brands I have used. They are not all that discreet (in my opinion) as they are large and held behind the ear. I have found others that you can hide inside the ear.
very effective
very pleased at how well these work!These hearing aids are designed for those with hearing loss. The way they amplify sound is super cool. The controls are easy to use; they are pretty intuitive. With these I can hear better than ever! They are compact and don't take up to much space at all.
Best ever!
I have to say that I love the sound quality. The sound is amazing after setting sound effects. The sound is so natural its amazing.
You may also like
Save $550.00
Self-Fitting and In-App Hearing Evaluation

Receiver-In-Canal (RIC) Hearing aids

2H fully charge,12H battery life

4 listening programs&10 volume levels

Ideal for Mild to Moderate Hearing Loss

Save $300.00
Ideal for Mild to Severe Hearing Loss

2-3 hours quick charge&20 hours battery life

5 pairs of ear domes for different canals

4 listening programs&10 volume levels

Behind-the-ear (BTE) hearing aids

Save $300.00
Ideal for Mild to Moderate Hearing Loss

2 hours quick charge & 12 hours battery life

6 pairs of ear domes for different canals

4 listening programs & 8 volume levels

Behind-the-ear (BTE) hearing aids