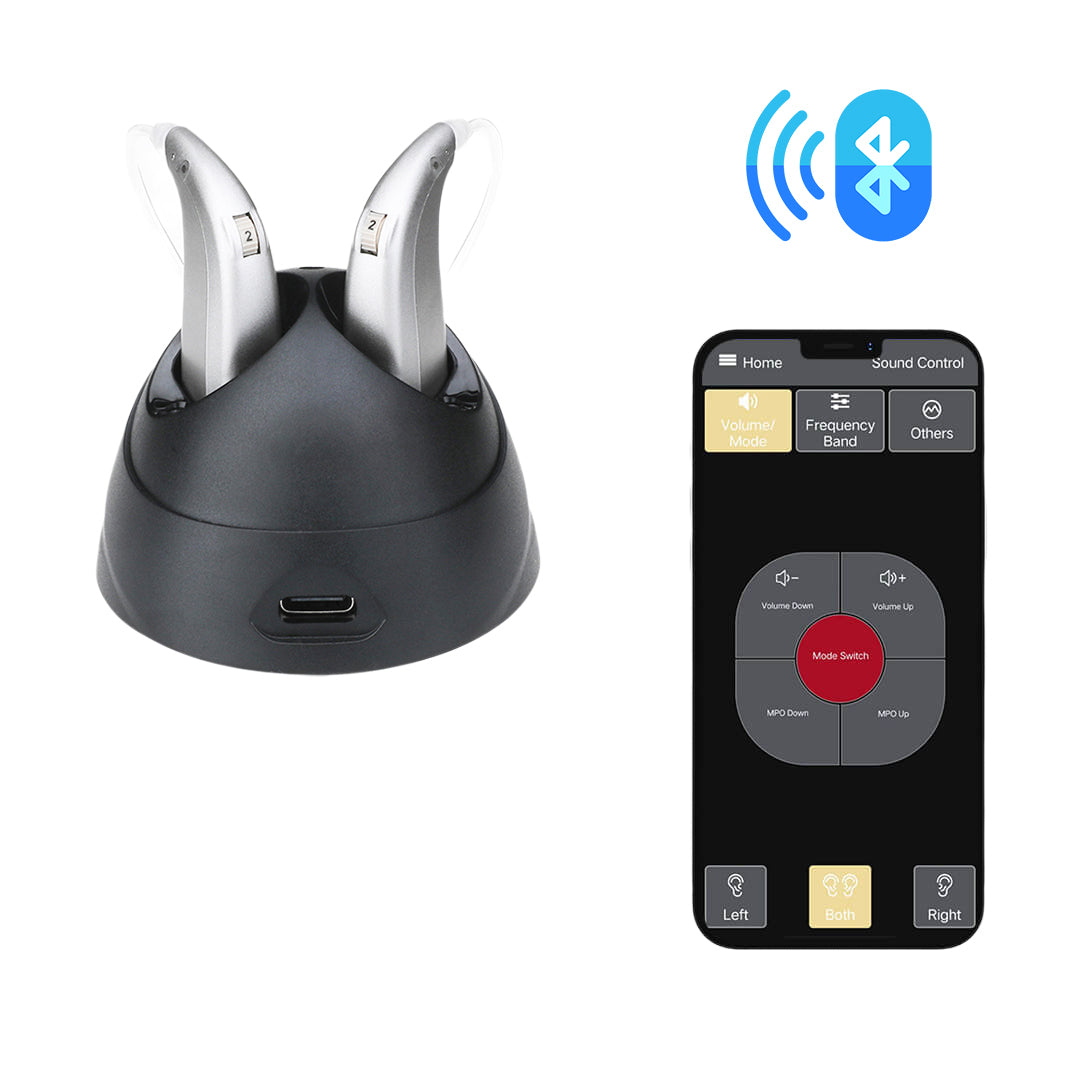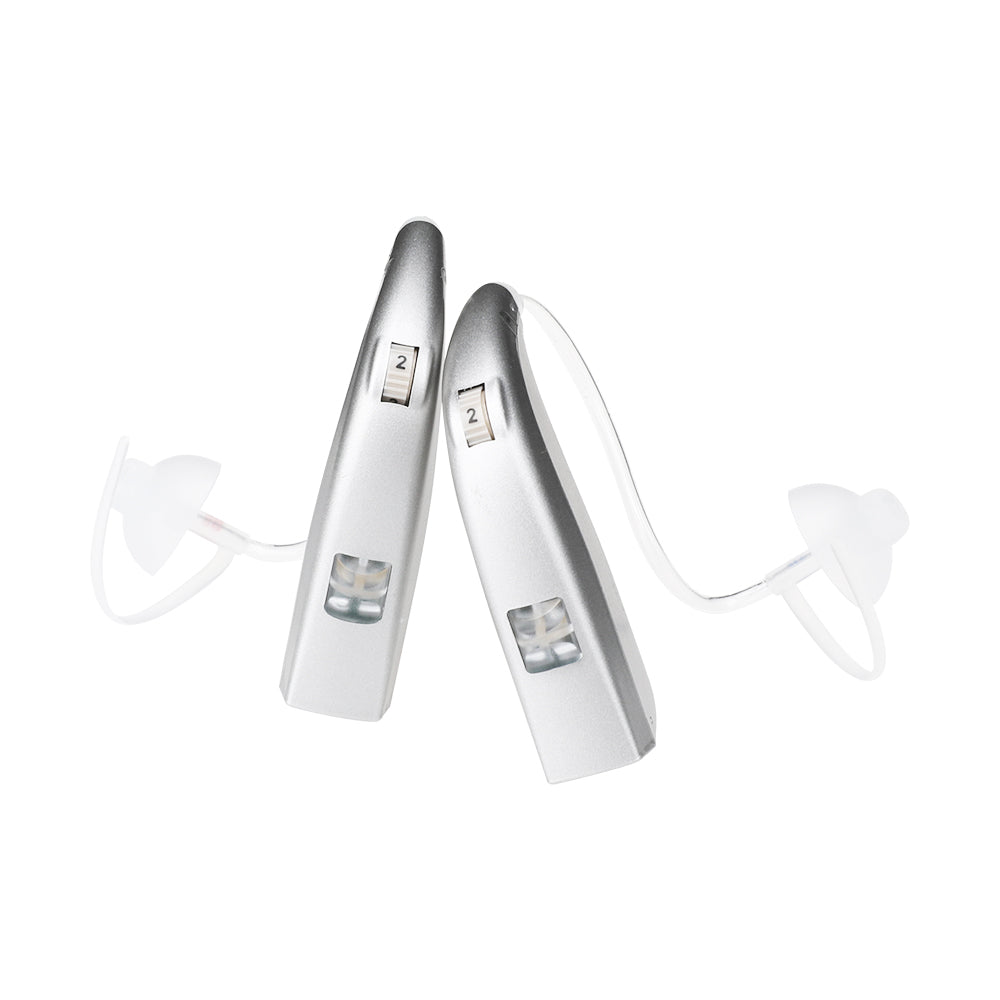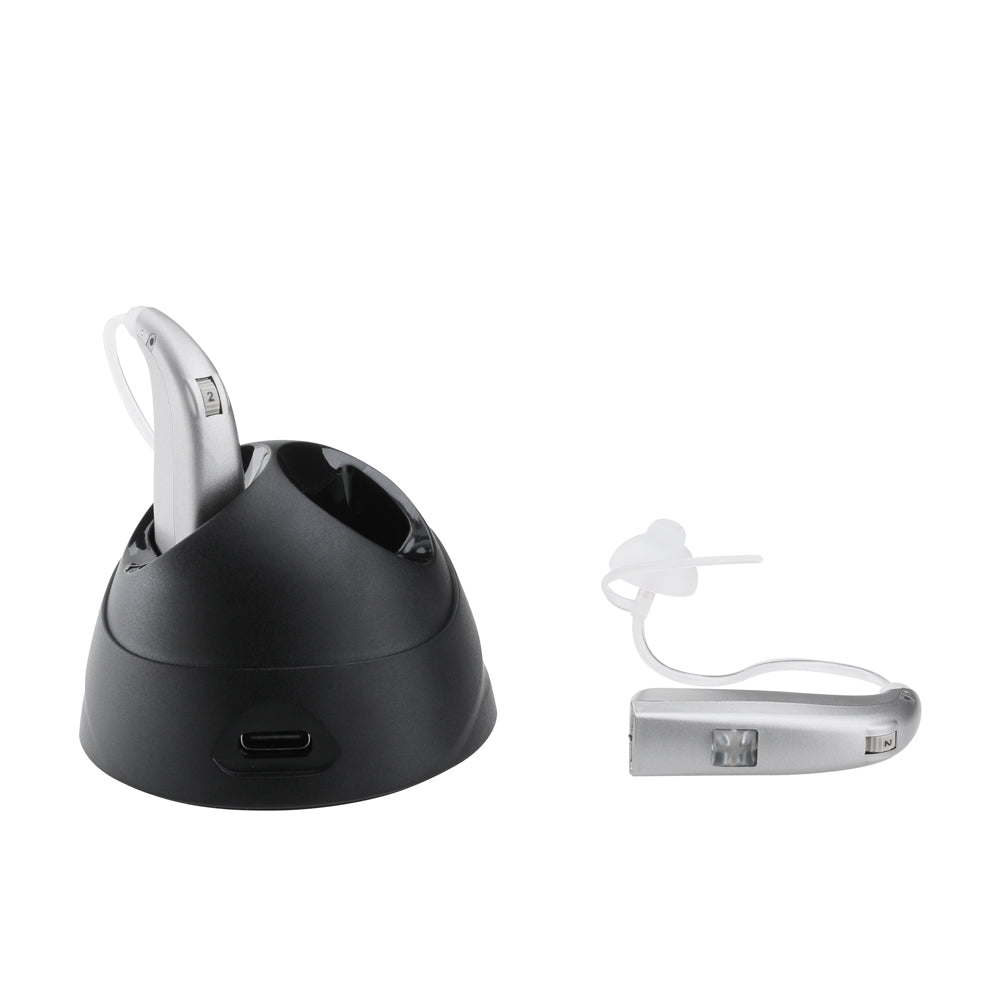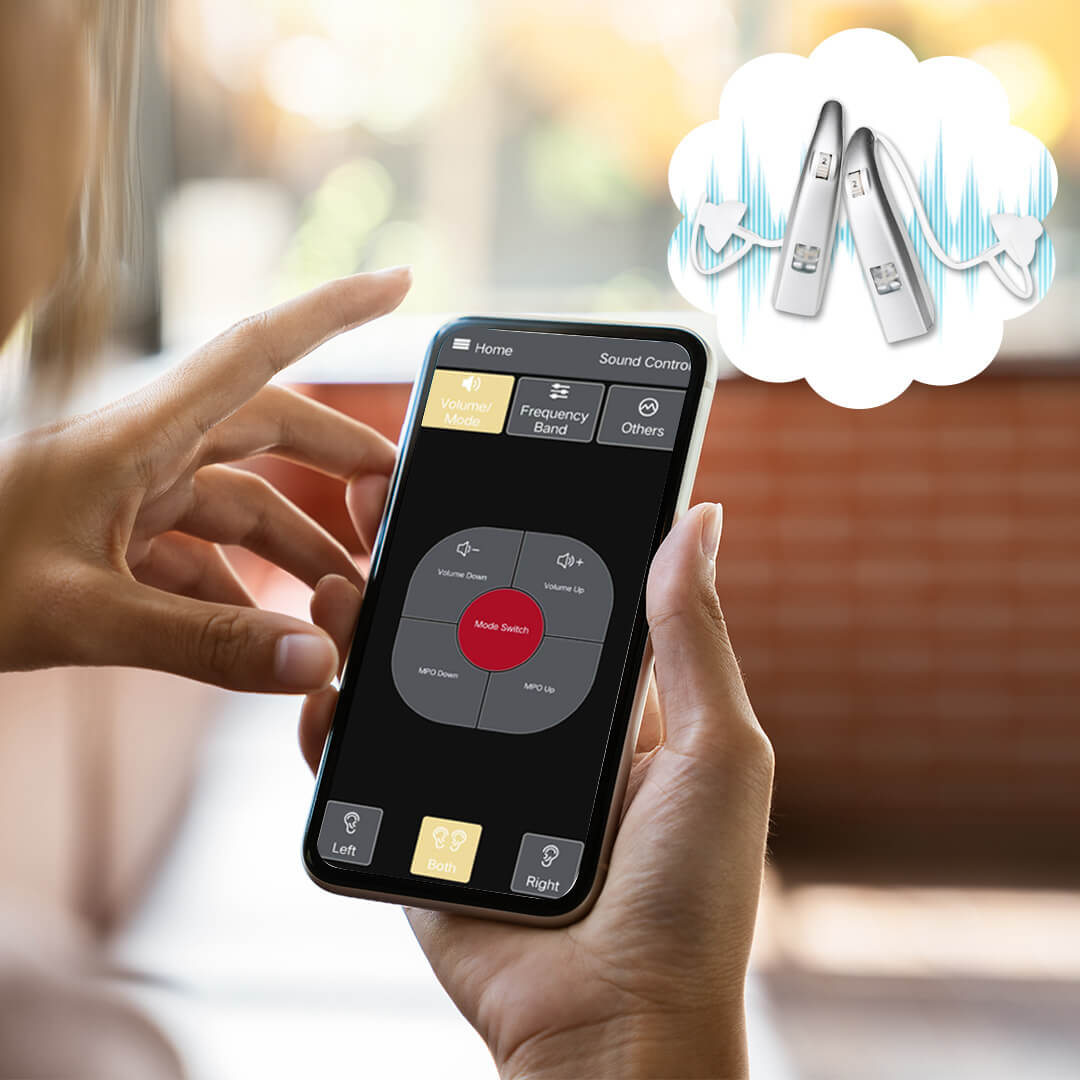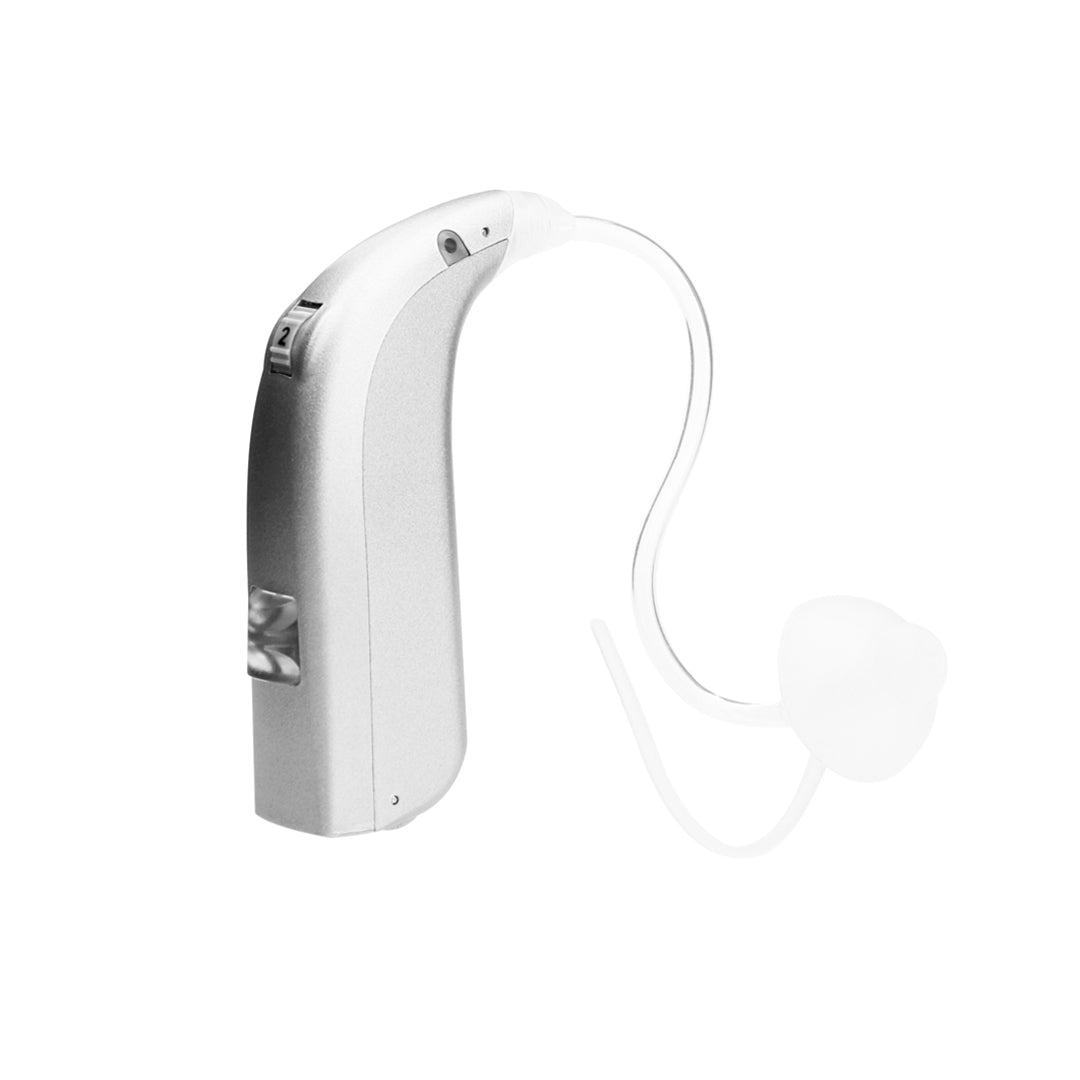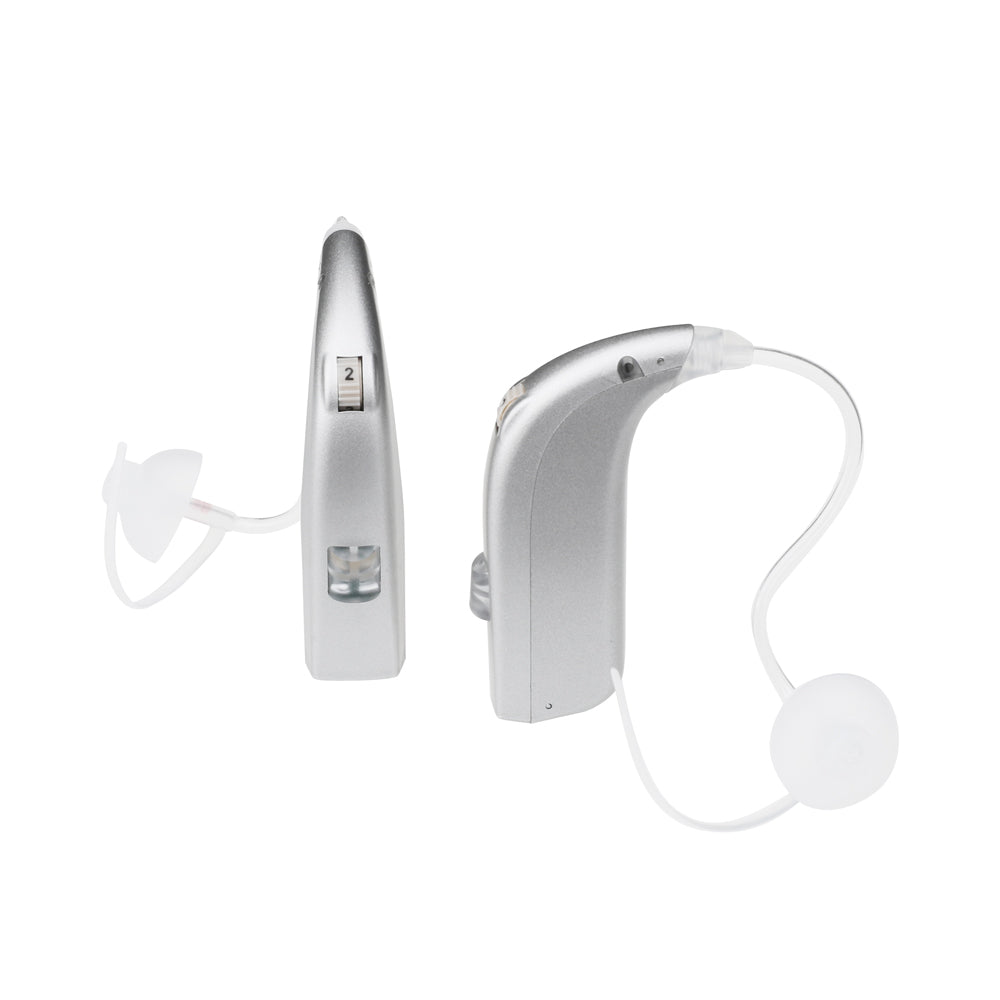 Fisdemo L Bluetooth Self-Fitting FDA-Cleared OTC Adult Hearing Aids-Dual-Core Chip, Bluetooth Streaming for Calls and Music, for Mild to Moderate Hearing Loss
4 interest-free payments or as low as $27/mo with Affirm. Learn more
---
Fisdemo L uses the latest generation of digital noise reduction chips, and the dual-core chip can offer 50% more noise reduction with precise processing. Bluetooth streams are both for Phone Calls and music. Meanwhile, easy pair with APP, self-fitting Mobile App can be personalized to your needs.
Key features
High technology dual-core digital chip:reduces more than 50% noise.
Bluetooth streaming for calls and music.
Self-Fitting:Download our HA-Fit mobile APP, automatically tailor the amplification and sound quality to your unique hearing needs.
In-App Hearing Evaluation:Taking an in-app hearing evaluation with your Fisdemo L Self-fitting OTC hearing aids benefits you because you'll be able to automatically customize the devices according to the results of the test.

Easy to use:You can use the buttons or APP to control devices.
Convenient USB charging:save the trouble and cost of repeatedly purchasing button batteries.
Peak OSPL90(dB SPL): ≤126dB
Maximum output OSPL 90(dBSPL): 107士4dB
Peak Gain(dB): ≤39dB
HFA/FOG Gain(dB): 30士3dB
Equivalent input noise(dB): ≤32dB
Frequency response range(Hz): F1≤500Hz F2>3500Hz
Harmonic distortion: ≤3%
Battery drain: NA
Charging Time:≤2h
Rated Working Time:≥14h
Size(Device): 0.39*0.59*1.57 in
Weight: 4g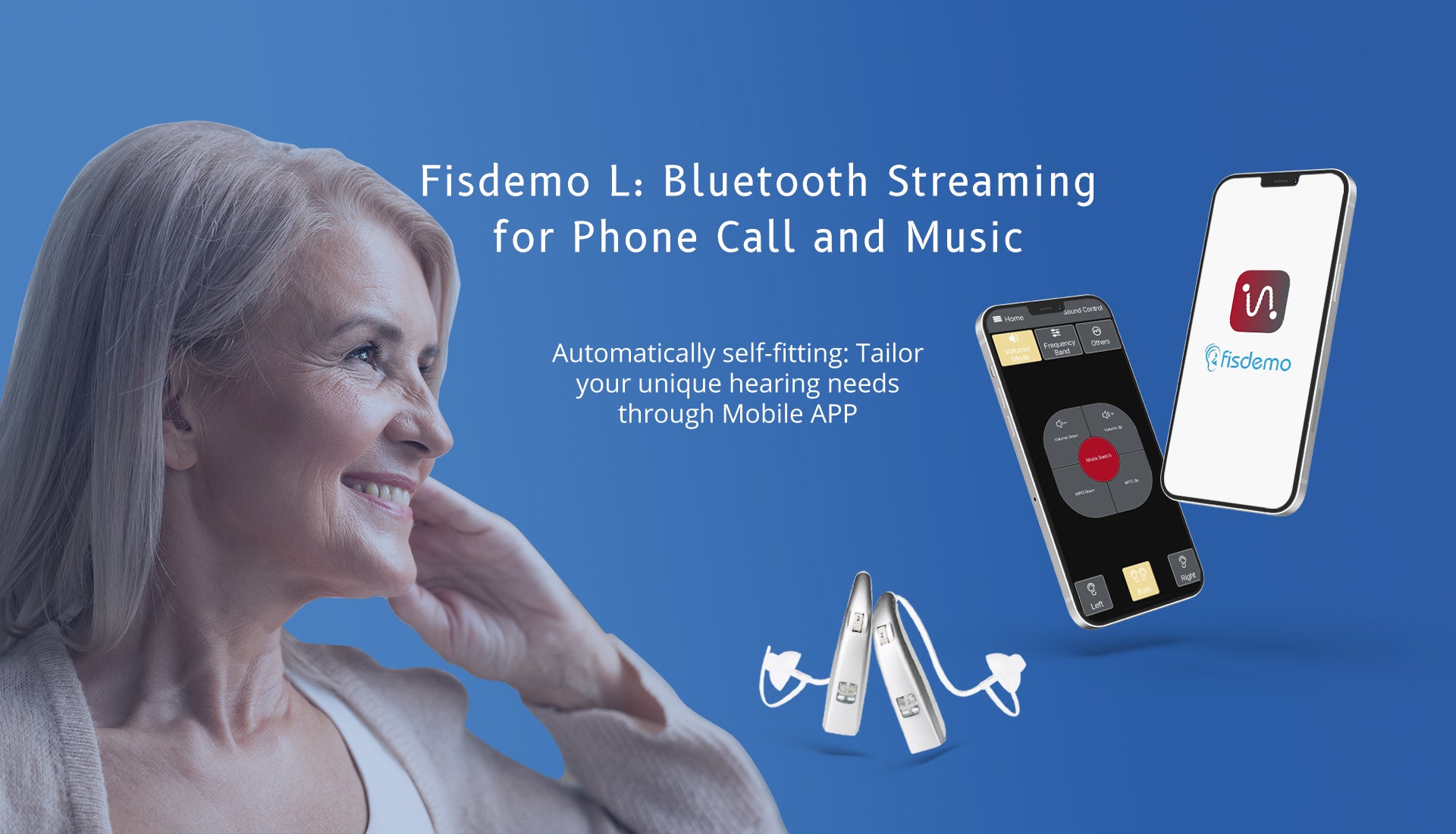 Getting Started is as easy as 1-2-3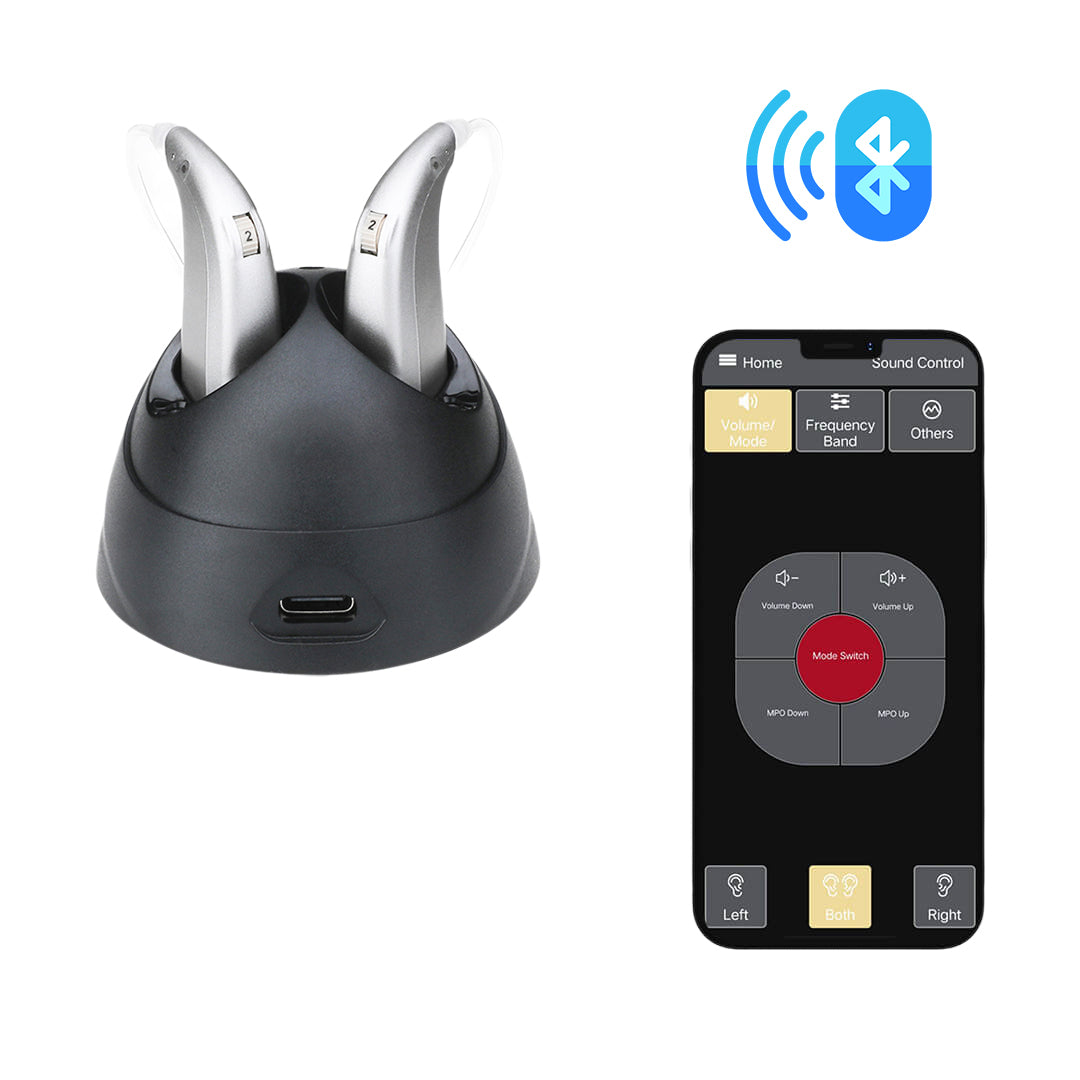 2. Pair Fisdemo L with your phone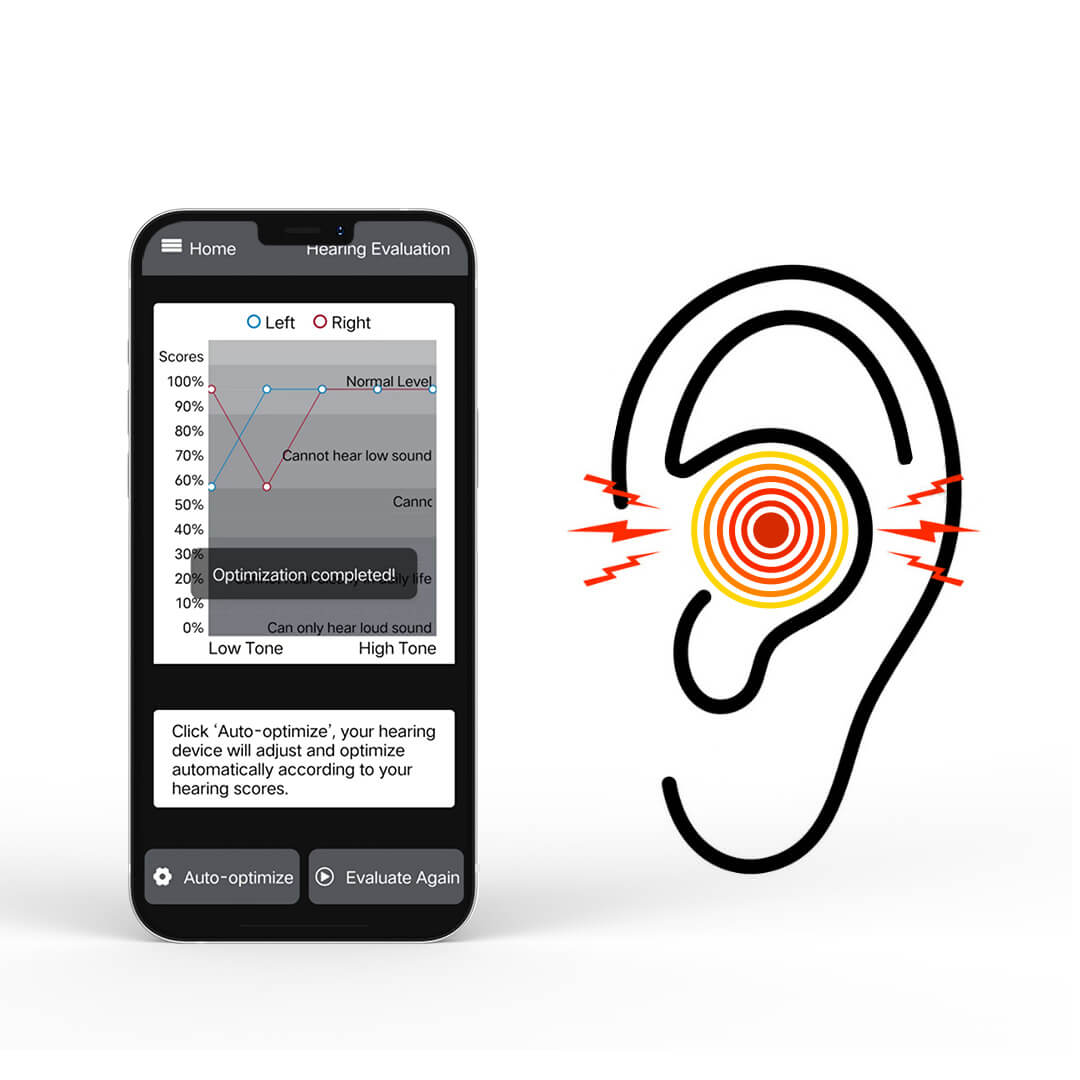 3. Control your hearing devices completely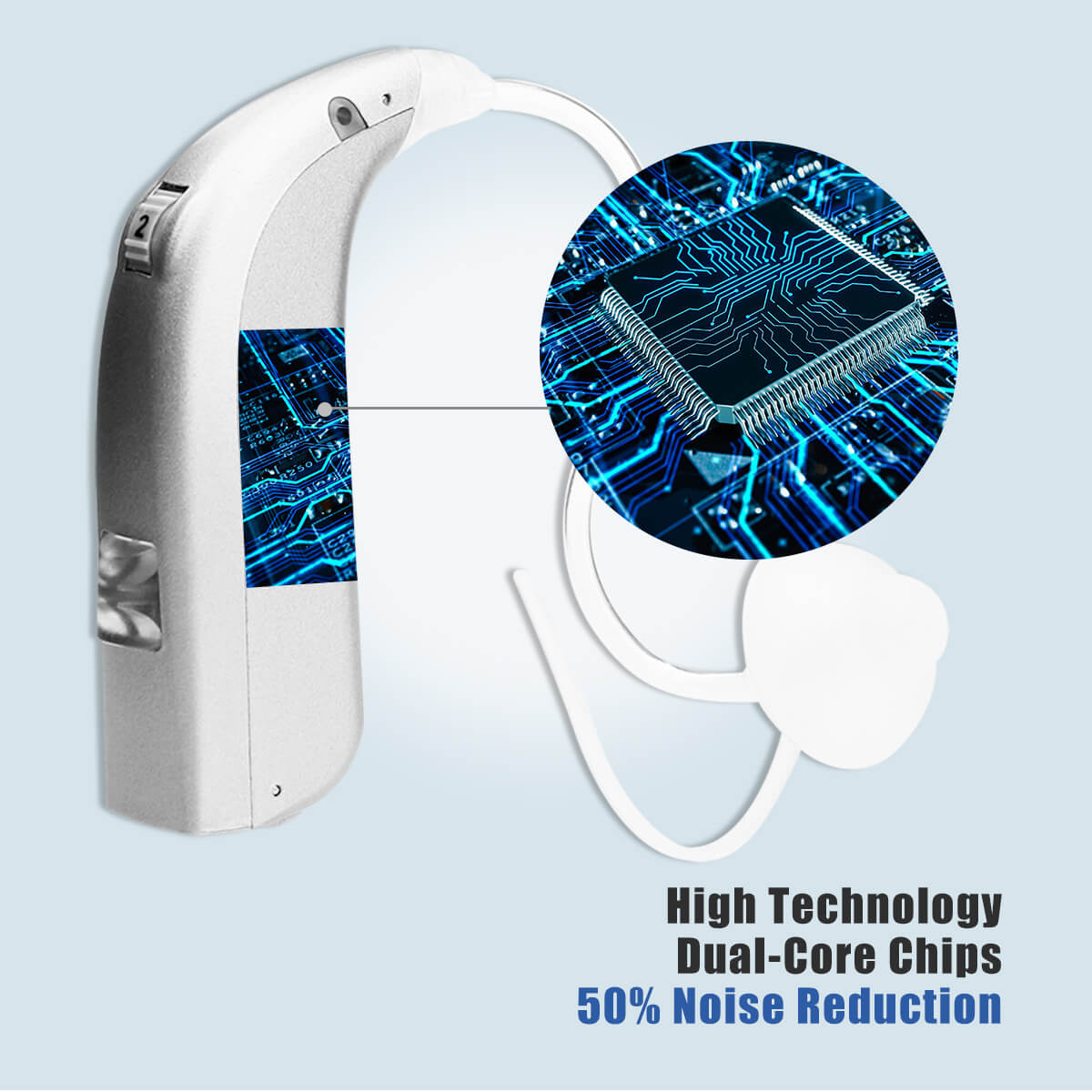 High Technology Digital Dual-Chip
Fisdemo L hearing aids uses the latest generation of digital dual-chip, super noise reduction function, which can offer more than 50% noise reduction with precise processing.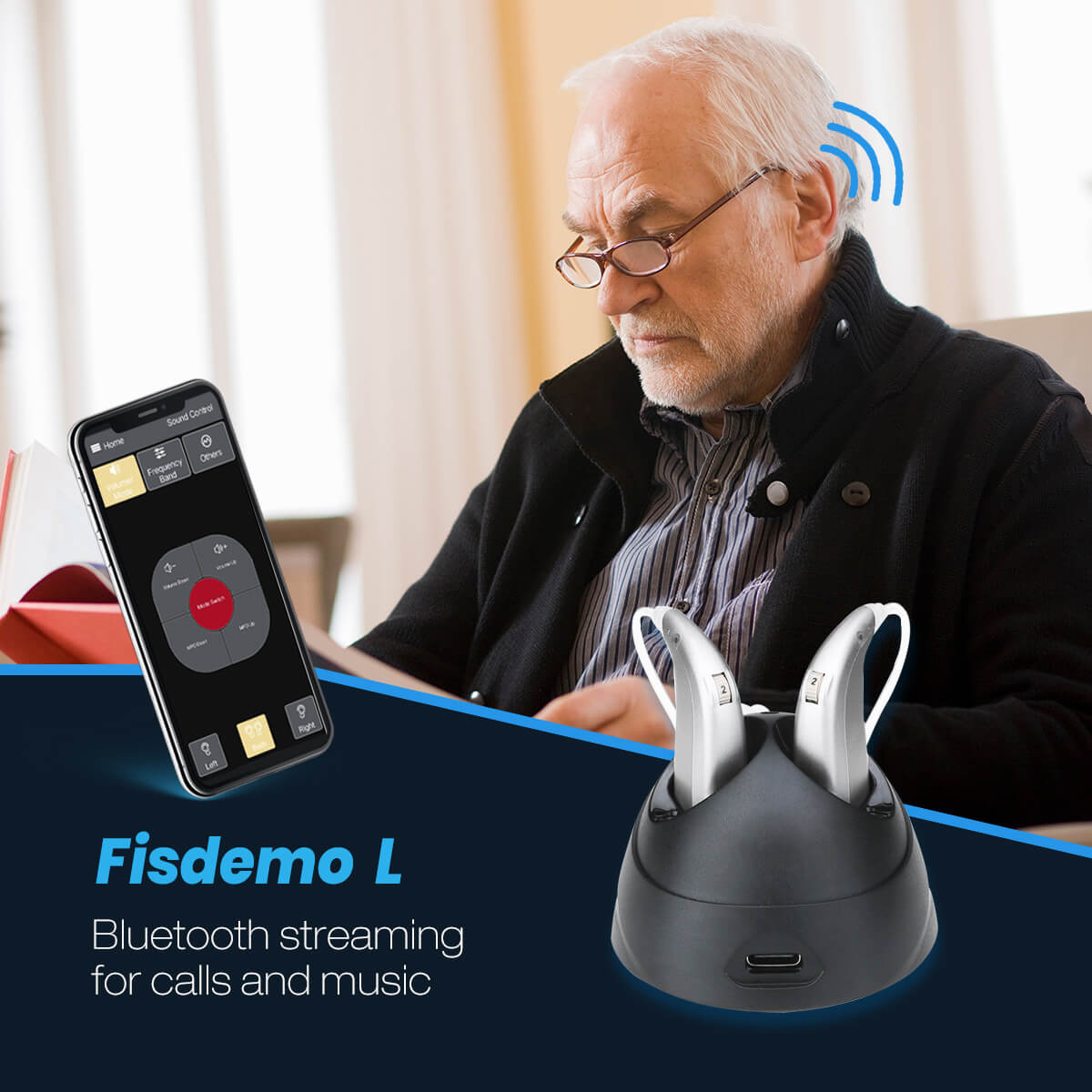 Bluetooth Streaming for Calls and Music
Fisdemo L is the Newest Version for those who want to connect directly to audio loop systems or landline phones. You can play music, make & receive calls with all the functions of ordinary Bluetooth. It offers hands-free calling, meaning you can take calls just like earbuds (no need to hold your phone up).
Self-Fitting: Convenience to Fit Your Unique Hearing Needs
Download our HA-Fit mobile APP, you can tailor the device settings to your unique hearing preferences for each ear. Follow on-screen instructions to pair, personalize & program them to your needs. Adjusting volume levels, choosing the most suitable scene and completing Hearing Evaluation, automatically optimizing your hearing devices. You can complete the entire process in your own home, less than 30 minutes.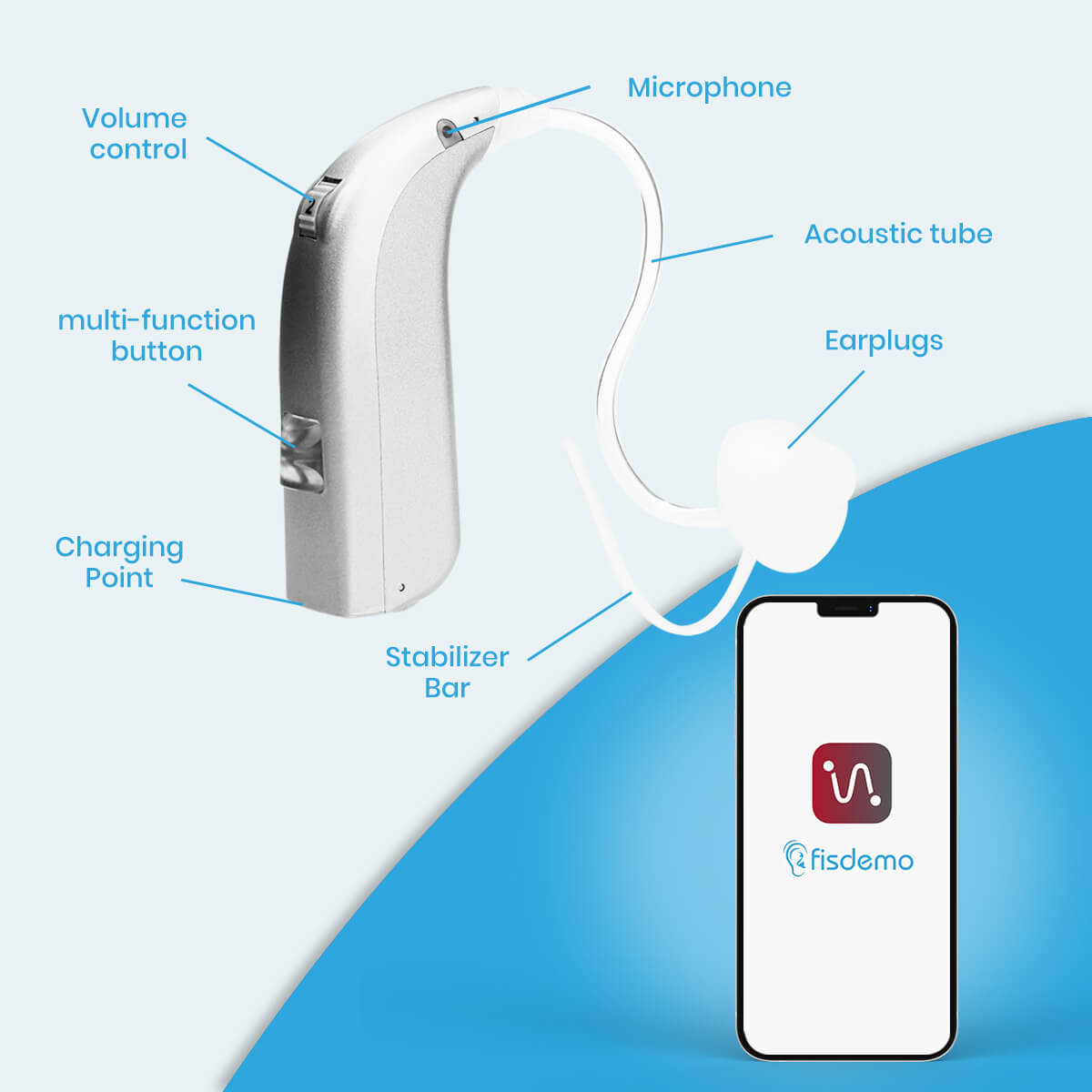 Easy to Use: You Can Use Both Buttons and APP to Control Devices
You can freely choose to use buttons and APP to operate the devices. The best part is that hearing aids enter into hearing aid mode automatically after being turned on. Long press for about 3 seconds to turn on and off. Adjust the volume of the hearing aid through the volume adjustment knob. There are four volume levels. Certainly, the simpler and more convenient option is APP.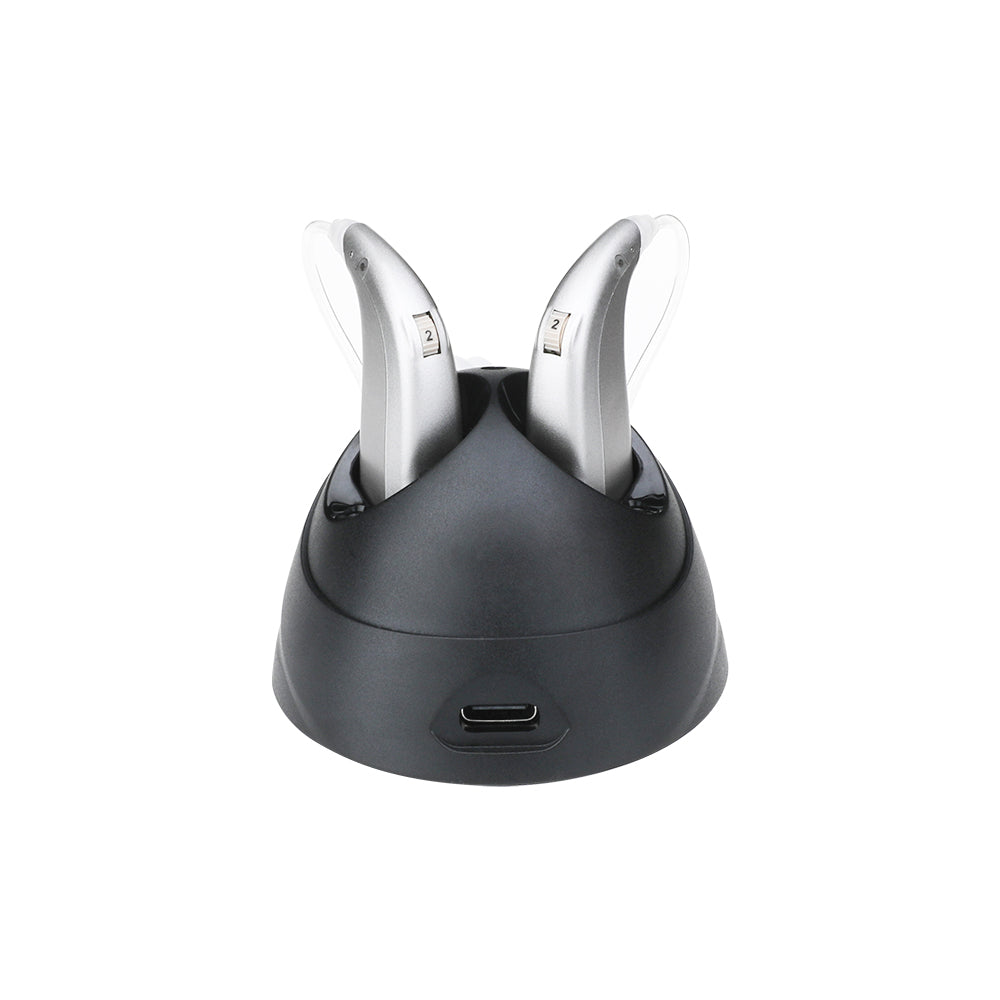 Convenient USB Charging and Humanized Arc Design
Convenient USB base charging, convenient charging methods save the trouble and cost of repeatedly purchasing button batteries. Fast charge time is less than 2 hours, but working time is more than 20 hours. Bluetooth mode working time: 4h Bluetooth mode, 1h hearing aid mode after Bluetooth mode off.
PACKAGE INFO
①Type-C charging cable
②Silicone ear dome
(closed form:0.805/1.05/1.3cm
open form:0.805/1/1.4cm)
③Charging base
④Brush
⑤Sound guide tube
How to Use Fisdemo L hearing Aid?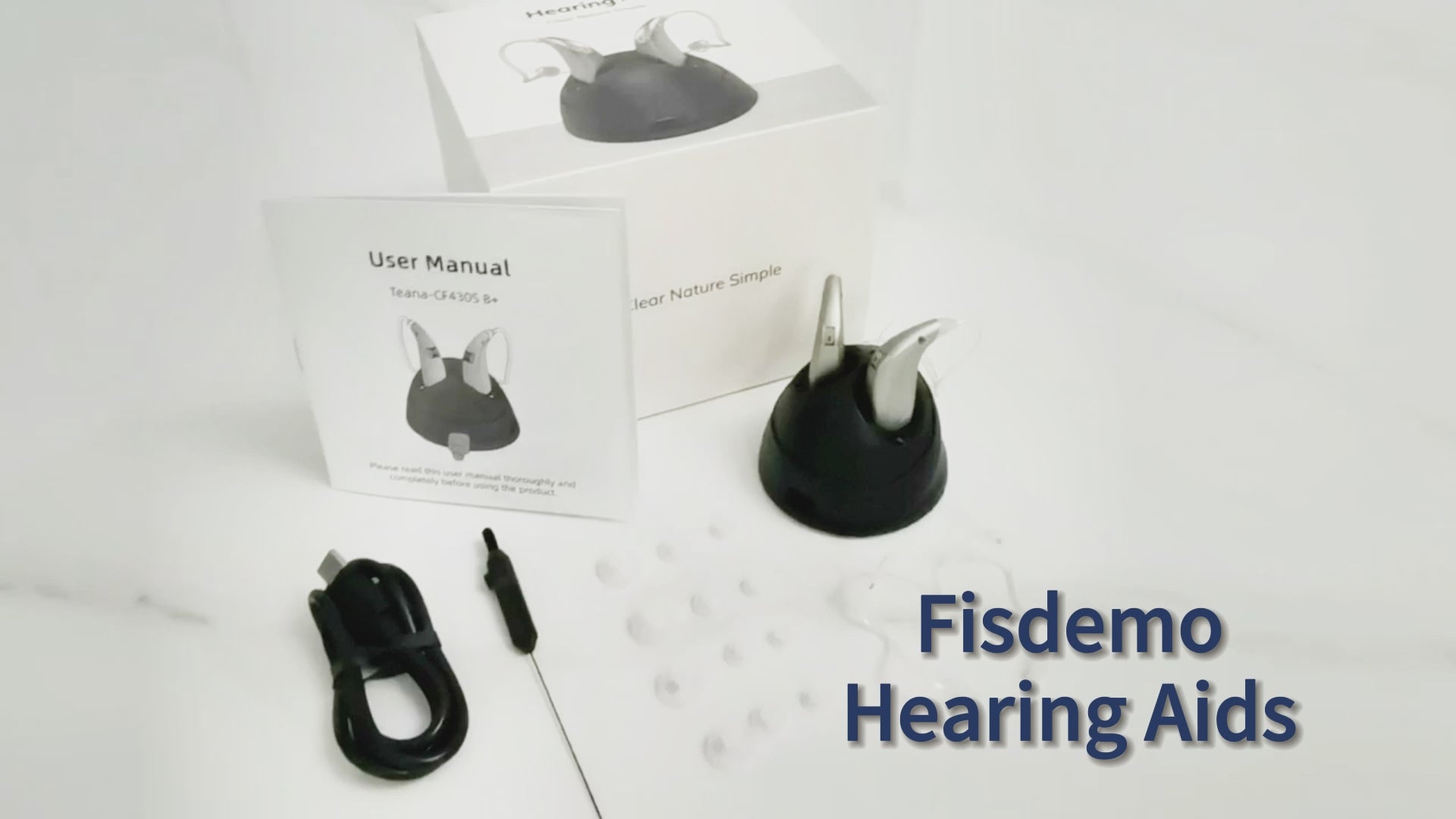 Are Fisdemo hearing aids FDA-Approved?

Fisdemo strictly abides by the policy requirements of the FDA, and all products are FDA certified.
What are the types of hearing aids?

Healthcare providers categorize hearing aids into five types: behind-the-ear (BTE), in-the-ear (ITE), receiver-in-the-ear (RITE), in-the-canal (ITC) and CROS/BiCROS. Fisdemo L is a premium BTE.
How do I wear the hearing aids?

Once the hearing aids have been fitted for the ears, the individual should begin to gradually wear the hearing aid.Because hearing aids do not restore normal hearing, it may take time to get used to the different sounds transmitted by the device. The American Academy of Otolaryngology recommends the following when beginning to wear hearing aids: Be patient and give yourself time to get used to the hearing aid and the sound it produces. Start in quiet surroundings and gradually build up to noisier environments. 
How can I care for my hearing aid?

Proper maintenance and care will extend the life of your hearing aid. Make it a habit to:
-Keep hearing aids away from heat and moisture.
-Clean hearing aids as instructed. Earwax and ear drainage can damage a hearing aid.
-Avoid using hairspray or other hair care products while wearing hearing aids.
-Turn off hearing aids when they are not in use.
-Keep it away from children and pets.
How long I can adapt my new hearing aids?

Fisdemo hearing aids devices can help you hear different kinds of sound you missed before. therefore, in order to make you feel comfortable for our hearing aid. you need an adaptation process. please wear it according to our guidance.
First Week
Start to wear your hearing aids at quiet listening environments. we suggest Wear them for 1~2 hours per day.
Second Week
You might take a walk in the park or along the forest to catch various natural sounds such as birds chirping. you can hear different sounds clearer than before. Recommend Wear this hearing sound amplifier for 4~8 hours per days
Third Week
You try to wear hearing device to go to public areas with Noisy such as restaurants or train stations. but adjust the sound suitable volume level and mode 3 before go out. Recommend Wear it no more than 8 hours per day
Forth Week
Gradually increase your wearing time per day, until you start to feel comfortable for as long as you can. at this period. you can prepare to travel like beach vacation and catch various natural sounds from sea such as tide pushing, conch, wind etc. bring lots of fun voice to you by our hearing aids.
This product is rated 4.9 of 5.0 stars.
It has received 8 reviews.
You may also like
Save $550.00
Self-Fitting and In-App Hearing Evaluation

Receiver-In-Canal (RIC) Hearing aids

2H fully charge,12H battery life

4 listening programs&10 volume levels

Ideal for Mild to Moderate Hearing Loss

Save $300.00
Ideal for Mild to Severe Hearing Loss

2-3 hours quick charge&20 hours battery life

5 pairs of ear domes for different canals

4 listening programs&10 volume levels

Behind-the-ear (BTE) hearing aids

Save $300.00
Ideal for Mild to Moderate Hearing Loss

2 hours quick charge & 12 hours battery life

6 pairs of ear domes for different canals

4 listening programs & 8 volume levels

Behind-the-ear (BTE) hearing aids